Imphal: Meet Manipuri neurosurgeon, Dr Amitkumar who teaches Wushu at a quiet corner in Imphal East district, an extraordinary task to promote the game in the state. Driven by his deep childhood attachment to the game, Amitkumar cannot leave this electrifying Chinese martial art to date. The bottom line of his enduring tendency is he imparts the training to around 50 children.
Amitkumar, who achieved best player titles, bagging hordes of laurels in several national Wushu championships, is the first Indian to score above 9:00 points (9:20) in the International Wushu competition at 3rd World Wushu Championships at Baltimore, USA in 1995, a record he maintained till 2011.
A resident of Brahmapur Nahabam Bamon Leikai in Imphal East, Amitkumar is a consultant neurosurgeon at the nearby state-run Jawaharlal Nehru Institute of Medical Sciences (JNIMS) in Imphal East. After his day's medical work at the hospital, he puts on his tracksuit and moves directly to the Wangkhei area where he trains around the children, including girls, at a community hall before moving to his residence in the evening.
Amitkumar, who checks and treats patients in the morning, has been imparting Wushu lessons to children in the state from time to time since 1991.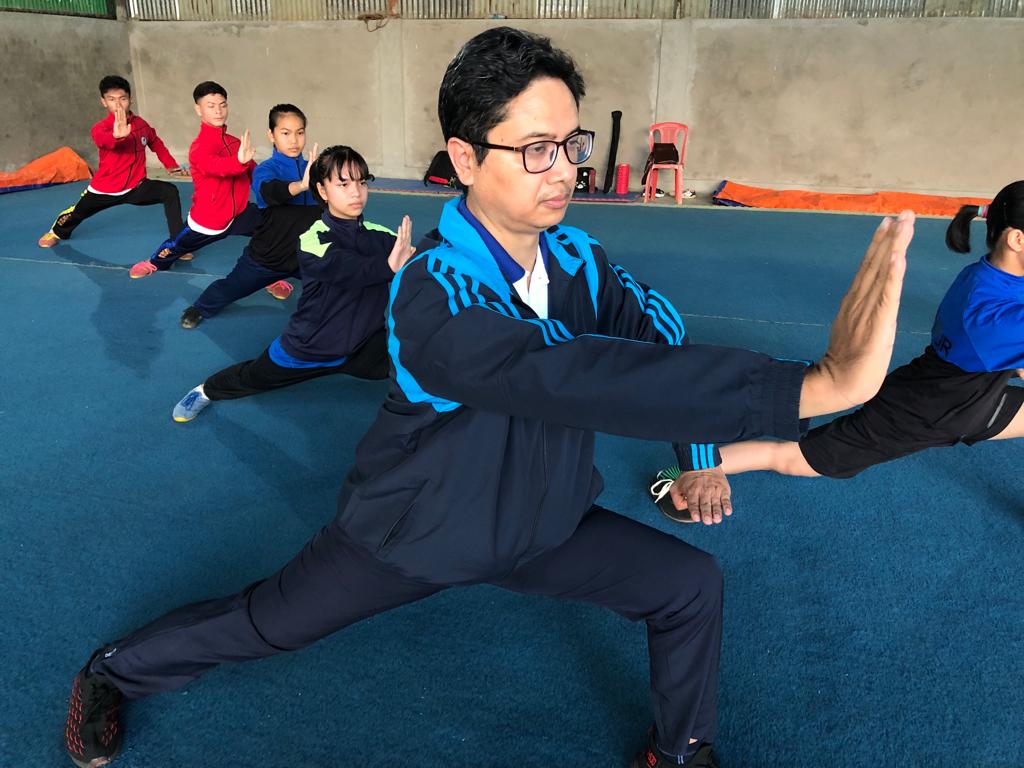 "Medical is my profession and Wushu is my passion and way of life as I have been associated with the game since I was in 3rd standard. I will continue to play and train Wushu till my health permits," a soft-spoken Amitkumar said on Tuesday.
What is amazing in his Wushu journey is Amitkumar learnt the beautiful game from his father Mayanglambam Biramani Singh, a Wushu exponent who has a short age gap of just 20 years between the father-son duo. As his younger brother Sachidananda Mayanglambam and their youngest sister Mayanglambam Usharani are also renowned Wushu champions of international repute, Amitkumar's family is popularly known as the "Wushu family."
Notably, Sachidananda is currently associated as technical official in the ongoing Asiad in Hangzhou, China. A retired state government employee, Biramani was a Budokan Karate exponent before switching over to Wushu in 1990 after he learned the game from Master Chin, the chief Wushu coach of Malaysia at the behest of Grand Master of Budokan Karate Chew Choo Soot at his Kaula Lumpur residence. Under Biramani's initiative, the formal Wushu movement started in Manipur.
"I began learning Wushu from my father when I was a young kid. When my father moved out of his office, I learned the theoretical part of the game at home, and again practiced together with him after he returned home," Amitkumar said.
Before switching to JNIMS, Amitkumar was a Major in the Indian Army for five years in the military's short service commission during which he helped establish and also worked additionally for a few years as in-charge "Army Wushu Node", giving Wushu training to the army players in Shillong in 2005.
Besides saving many lives as a doctor, Amitkumar has also produced various national and international Wushu medal achievers. Among the shining athletes include L Sanatombi Devi, M Gyandash Singh, M Punshiva Meitei who clinched a bunch of gold medals in several international competitions.
Amitkumar did his MBBS from RIMS Imphal in 2001, MS (General Surgery) from AFMC Pune in 2013 and MCh (Neurosurgery) from AIIMS, New Delhi in 2018.
He participated in the 1st, 3rd and 7th World Wushu Championships in Beijing (1991), Baltimore (1995) and Macau (2003) respectively. In his youthful days, he bagged three gold medals each and was adjudged best player titles in the 4th and 5th National Wushu Championships held in Hyderabad in 1992 and Lucknow in 1993 respectively. He also won a gold each in the 2nd and 12th National Wushu Championships held in 1991 in Kolkata and in 2003 in Chennai respectively and two gold medals in the 6th National Wushu Championships 1995 in Aizawl.
About the Wushu training unit in Imphal, Amitkumar said there are three/four coaches besides him in it, he said. "For paying their (coaches) monthly remunerations, we charge minimal fees from the students, and on top of that, I also contribute Rs 25,000 from my side in the fund pool for distributing the pay," he said.