Imphal: International Day of Persons with Disabilities, 2021 was observed Friday under the theme "Leadership and Participation of Persons with Disabilities toward an Inclusive, Accessible and Sustainable Post – COVID-19 World" at Maharaj Chandrakirti Auditorium, Palace Compound.
The programme was jointly organised by the Department of Social Welfare & Office of the Chief Electoral Officer (CEO), Manipur.
Deputy Commissioner, Imphal West, Th. Kirankumar, Additional CEO, Manipur N.  Praveen Singh, State Commissioner for PwDs, Manipur, Th. Dilipkumar Singh, Director Social Welfare, Ng. Uttam Singh and President, Theatre Centre, Manipur, Naba Wareppa graced the occasion as Chief Guest, President and Guests of Honour respectively.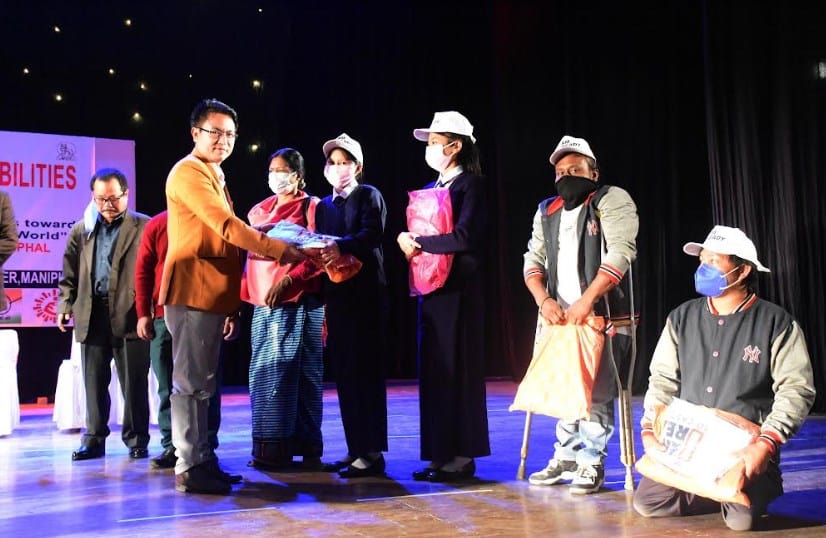 Addressing the gatherings, Chief Guest Th. Kirankumar emphasized on ensuring an equitable environment that will be accessible for all. He suggested that an assumption based approach will not be impactful. He stressed for the policy to be carried out with a thorough analysis of accessibility in view of the Differently-abled Persons and should be action-oriented for inclusive growth.    
Additional CEO, Manipur, N. Praveen Singh expressed that the specific needs of the Differently-abled Persons should be considered and identify their innate abilities to give them the right platforms. He highlighted that various activities are initiated for accessible elections to ensure PwDs exercise their voting rights in the Upcoming State Assembly Election, 2022. Till date, 13,827 PwDs have been marked in the electoral roll and it is expected that the number will increase in the final electoral roll which will be published on 5th January, 2022, he asserted.
Praveen also stated that marking of the PwDs will help in providing essential assistance on the Poll day and make them avail the Assured Minimum Facility (AMF) in all the polling stations, facilitating them in casting their votes with ease.
During the observance, Director, Social Welfare, Ng. Uttam stressed that this year's theme focuses on ensuring that the differently-abled people also have equal participation in the growth and progress of the society. It is an initiative to impart relevant education amongst them to strengthen their ability, he added.
Uttam also highlighted the effort of various awareness programmes conducted by the Office of the CEO, Manipur to ensure the inclusion of the PwDs in the upcoming election. He said that the marking of the PwDs in the electoral roll is important to avail the various aid and facilities that will be arranged for facilitating them in exercising adult franchise.
A Manipuri Drama 'Traffic Jam' directed by Leishangthem Tonthoingambi Devi was presented during the observance.
The programme was attended by officials of CEO, Manipur, Social Welfare Department, teachers and students.