Imphal: Manipur Chief Minister N. Biren Singh said the state is moving ahead towards development with improvements in law and order.

He added that the state had been able to host G20 events, and the grand finale of Femina Miss India 2023 will be held.

The Chief Minister was addressing the gathering at the inaugural session of the C20-India 2023 Vasudhaiva Kutumbakam National Conference, organised by Chimney Mission here on Saturday.
N. Biren expressed pleasure at taking part in this prestigious event, C20-India 2023, being organised by Chinmaya Mission. He stated that India has been bestowed with the honour of guiding the world with the assumption of the G20 Presidency, and it is a proud moment for every citizen of India.

Stating that the Prime Minister has chosen the theme for India's Presidency as "Vasudhaiva Kutumbakam" or "One Earth, One Family, One Future", he said the theme spotlights LiFE (Lifestyle for Environment), with its associated, environmentally sustainable and responsible choices, both at the level of individual lifestyles as well as national development, leading to globally transformative actions resulting in a cleaner, greener, and bluer future.
The Chief Minister also mentioned that India's G20 Presidency also marks the beginning of Amritkaal, which leads the country towards a futuristic, prosperous, inclusive, and developed society, distinguished by a human-centric approach at its core. 
He added that Vasudhaiva Kutumbakam is a universal maxim whose purpose is not an imposition but the evolution of human consciousness that will lead to the protection of the world through friendship and cooperation.
N. Biren further observed that India has shown the way to defining Vasudhaiva Kutumbakam by supplying COVID vaccines to various nations, supplying foodgrains to war-torn nations, and supplying human power to combat disasters.

He was confident that the deliberations at the conference will go a long way towards spreading the invaluable message of universal brotherhood and voicing the concerns of the world population through civil society organisations to the world leaders at the G20.

Rural Development and Panchayati Raj Y. Khemchand Singh, stated that giving a positive impact on the economic development of the state is possible through development in the tourism sector. He said that Vasudhaiva Kutumbakam reflects India's global leadership and added that the country's role in global leadership had improved a lot.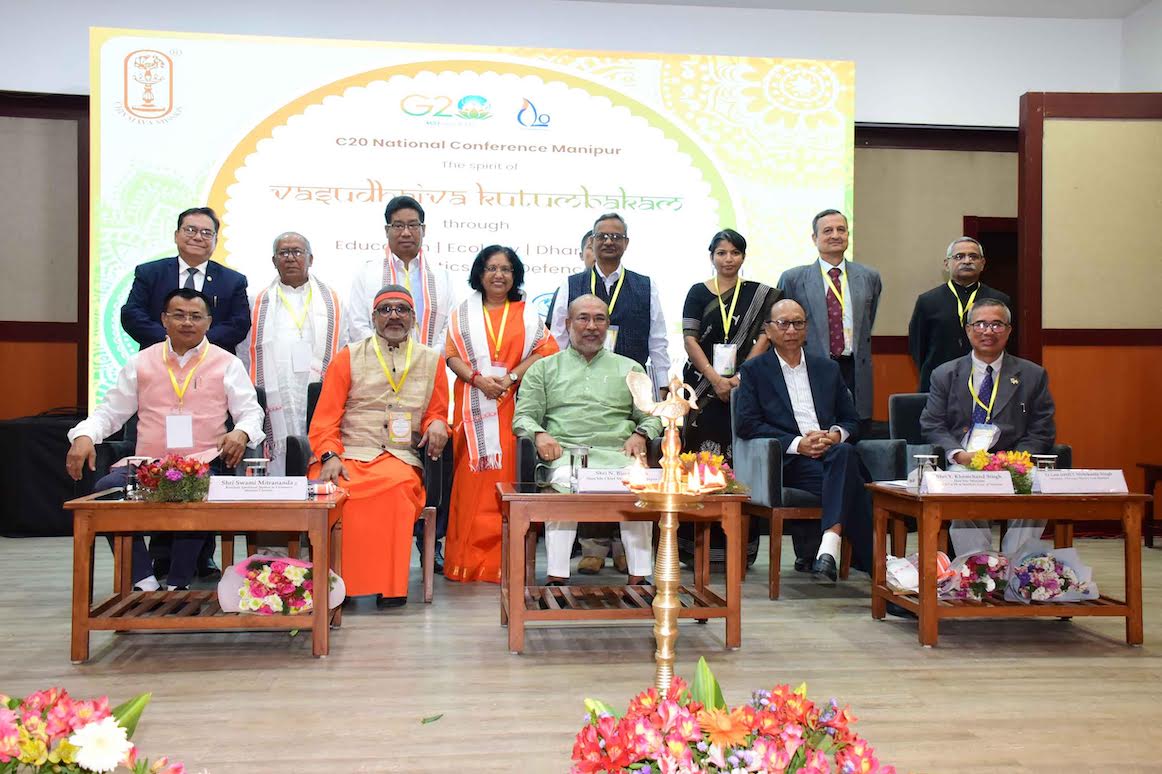 Resident Spiritual Mentor at Chinmaya Mission Chennai, Swami Mitrananda; Chairman, Loktak Development Authority, M. Asnikumar Singh; Secretary, Chinmaya Mission Trust Manipur, Lt Gen (Retd) L. Nishikanta Singh; Vice Chancellors of Universities, Professors of Various Educational Institutes; retired and serving army officers also attended the conference, among others.
The inaugural session was followed by technical sessions on topics including Dharma, Education, Ecology, Geopolitics, and Defence.