Imphal: Chief Minister N. Biren said that his government would not tolerate any act of suppression by one community over another, which would hinder the overall development of the State. The Chief Minister made the statement while attending the second Go to Hills 2.0 programme organized Friday at Konsa Khul of Kangpokpi district by the District Administration, Kangpokpi.
N. Biren Singh continued that inclusive development would be possible only when different communities residing in the State have respect for one another and grow together.
Stating that the state government had always aimed for equal development of all communities, he maintained that certain welfare programmes including Go to Hills, Go to Village, Ayushman Bharat, CMHT and Health for All among others had been taken up so that people could avail benefits easily. He assured that a white paper on various development works taken up in the hill districts would be brought out soon.
Maintaining that law and order of the State had considerably improved in the last four and half years, the Chief Minister stated that peace had now been restored and the public could move anywhere across the State with free mind.
He also maintained that the government had brought improvement in various sectors including setting up of oxygen generation plants in all districts, distribution of three ambulances each in all the six Autonomous District Councils and infrastructure development of schools under School Fagathansi Mission. He appreciated all the officials of the State Government for their sincere services and dedication towards achieving such a growth trajectory.
Regarding the construction of Hill Tribal Chiefs' Guest House at Palace Compound, Imphal, N. Biren Singh said the government had procured the required land amounting to Rs. 10 crore. The seven-storey building is under construction and will be completed within 5-6 months, he added.
He also mentioned that the Inter Village Road (IVR) connecting Khunkhu to Langka (around 27 km) would be constructed under PMGSY with a budget of 12.15 crore. He also announced that Rs. 83 lakh has been allocated for the development of the football ground at Konshakhul as desired by the villagers of the area.
The site for the construction for Rural Market Shed at Makhan village has also been identified and a sum of Rs. 25 lakh has been sanctioned, he added.
On the occasion, the Chief Minister also reiterated the various infrastructural projects being undertaken in Kangpokpi district for the welfare of the people. He mentioned that around 12,000 families have been electrified, 20,000 families were provided potable water connection, 4018 beneficiaries were selected under PMAY, around Rs. 130 crore has been released under MGNREGA etc. for Kangpokpi district. The Chief Minister also stated various infrastructure developmental projects had been taken up in the district in the last four and half years including construction of seven bridges amounting to Rs. 189 crore, Women's Market, 3 Sadbhavna Mandaps, Transit accommodation for Teachers and Doctors etc.
Speaking on the occasion, Member of Parliament, Rajya Sabha Sanajaoba Leishemba stated that every people of the State should welcome and support the Go to Hills Mission as the mission aimed to bridge the gap between hill and valley regions and bring inclusive development in the State. He continued that the Go to Hills initiative of Chief Minister N. Biren Singh had fulfilled his long-standing wish to do something good for the people of hill areas.
He appealed to all the public to cooperate and support the initiatives of the government so that maximum development could be attained under the leadership of the people-oriented Chief Minister.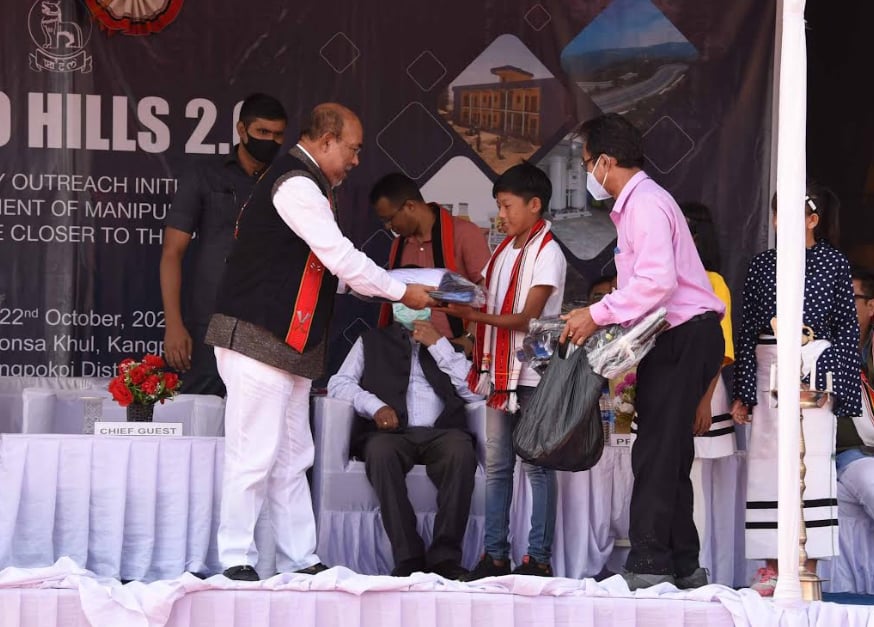 During the programme, N. Biren inaugurated the Primary Health Sub Centre (PHSC) Langka, Kangpokpi District. He also distributed assistances under various welfare schemes to beneficiaries consisting of CMHT cards, PMJAY Ayushman Bharat cards, widow pension cardS, old aged pension cardS, seeds to farmers, knapsack sprayers, sewing machines, walking sticks, hearing aids, water sprinklers, water pumps, educational kits and materials to students, soil health cards and GI sheets among others. Beneficiaries also expressed satisfaction and thankfulness to the Chief Minister for all his initiatives taken up for their welfare.
Education Minister Sorokhaibam Rajen, Tribal Affairs and Hills Minister Vungzagin Valte, Agriculture Minister Oinam Lukhoi, Deputy Speaker Kongkham Robindro, Chairman, Manipur Building & Other Construction workers' Welfare Board, Heikham Dingo, Saitu MLA Ngamthang Haokip, Langthabal MLA Karam Shyam and other high-level officers of the State Government attended the programme among others.
Earlier, the Chief Minister and his cabinet colleagues were accorded a warm welcome by the people of Konsa Khul Village. Liangmai cultural dances performed by troupes from Khunkhu Village and Makhan Village were also a centre of attraction during the programme.