Imphal: Sekmai Assembly constituency MLA H Dingo Wednesday appealed to the people of his constituency to take the Covid-19 vaccine.
Participating programmes to celebrate 'Vaisakhi', the New Year (2078) celebration of Nepali Gurkhas at Kanglatongbi Tispari and Kanglatongbi Hatikhuwa respectively, the lawmaker said Manipur, like any other parts of the country, is now facing a second wave of coronavirus and people above the aged of 45 must definitely visit a nearest healthcare centre to get vaccinated against the dreaded disease.
MLA Dingo also urged citizens to focus on fighting Covid-19 by taking all precautions, including wearing a mask, regularly washing hands and following other protocols.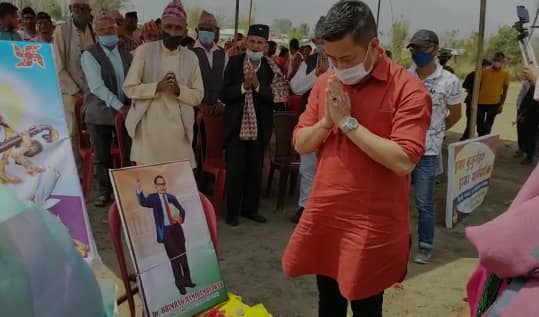 Stating that his Assembly constituency is like a mini-Manipur where different flowers grow together in a garden, Dingo said many communities irrespective of caste, creed live together peacefully for ages. The MLA also extended his warm greetings and best wishes for the New Year of the Gurkha communities. Later, Dingo also paid tribute to Dr Babasaheb Ambedkar on his 130th birth anniversary.