Guwahati: Amid reports of mass exodus of Meiteis in Mizoram, an advisory by the All Assam Manipuri Students' Union (AAMSU) to Mizo people in Assam, especially in Silchar to leave the state for their "own safety" has been withdrawn, "in the interest of peaceful coexistence between the two communities". 
Earlier, media reports said that hundreds of Meitei people from southern Assam and Manipur were leaving Mizoram following a public call by the Peace Accord MNF Returnees' Association (PAMRA), a former militant association, and other bodies to leave the state for their own safety, citing "anger among Mizo youth" over an incident in which the two tribal women who were stripped and paraded naked by a mob in the neighbouring state, Manipur.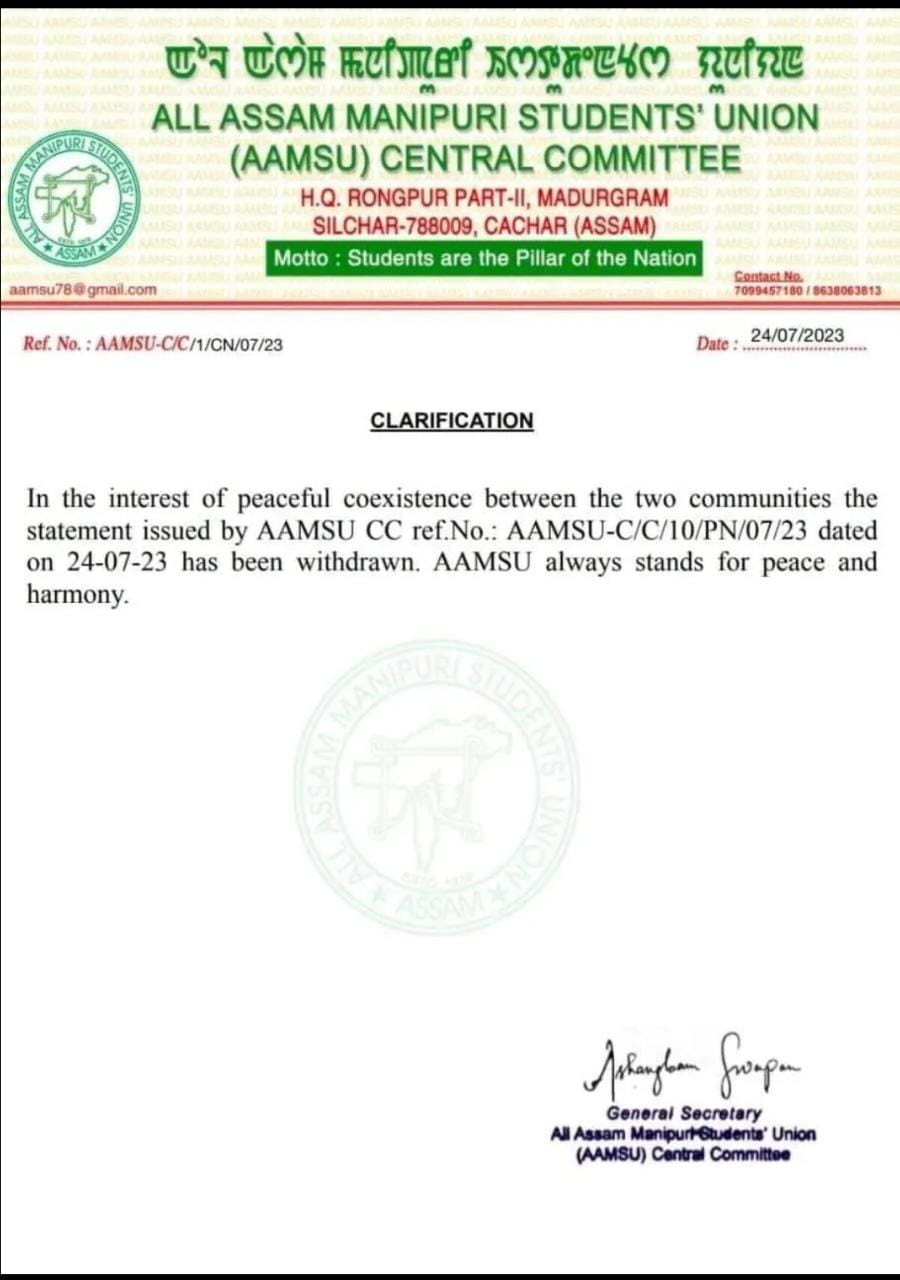 After the announcement, the senior officials of the Mizoram home department met with leaders of the Meitei community and also members of the Association.
Later, PAMRA representatives, however, clarified that the press release was issued as an advisory requesting Meiteis living in Mizoram to exercise caution in the light of public sentiments… and was not a diktat or a quit notice to Meiteis.
"It's very regretful to learn how the Mizoram (both the state government and elite groups) is involved in fuelling the violence from the beginning when MZP issued a threatening notice to the Meiteis living in Mizoram on 30th April, 2023 even before the Kuki Narco terrorists declared war upon the native Meiteis in Manipur on 3rd May, 2023," the AAMSU said in an earlier statement which was withdrawn later.
"The recovery of arms and other war materials in Mizoram by security forces meant for Kuki militants to create havoc in Manipur as well as provocative speeches against Meiteis in the name of Zo solidarity says it all," the statement said, adding that "as most of the Meiteis living in Mizoram happens to be from Assam, the unruly behaviour of Mizoram has already escalated anger among the Meiteis of Assam, therefore for their own safety we advise the Mizos living in the Meitei areas of Barak Valley to vacate the areas at the earliest time possible."
The student body said they stood in solidarity with our Meitei kins in Manipur who are being attacked by warmonger Kuki Zo tribes. The Meiteis in Assam would extend possible and necessary support to our kin.
The statement also advised the Mizoram government to stop playing double games by pretending to show concern for Meiteis on one hand and giving a free hand to anti-Manipur activities in that state.
Media reports further mentioned that around 1,500 to 2,000 Meitei families from Assam and Manipur have been living in various places of Mizoram and are engaged in various government and non-government works, studies and business.