Imphal: Manipur Governor Najma Heptulla handed over Citation and Certificate of Appreciation for the year 2020 to different units of Assam Rifles, State Police and Individuals at a solemn function organised by Governor's Secretariat at Durbar Hall, Raj Bhavan, here Tuesday.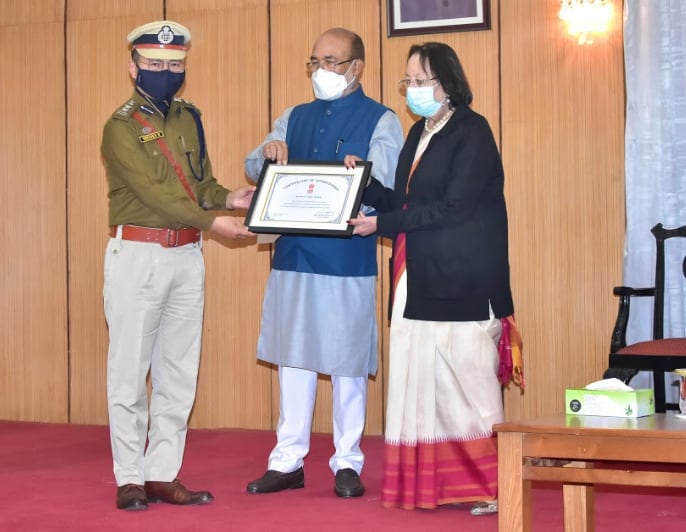 The Citation and Certificate of Appreciation were handed over to the respective Commandants and Superintendant of Police of 15 Assam Rifles, 31 Assam Rifles, 38 Assam Rifles, 39 Assam Rifles, 42 Assam Rifles, 43 Assam Rifles, Head Quarter IGAR (S), Narcotics & Border Affairs, Bishnupur Police, Thoubal Police, Ukhrul Police, Chandel Police, Tengnoupal Police and 1st Manipur Rifles Unit Band.
Addressing the gathering, Najma Heptulla said that the function was organized to appreciate and encourage the security forces who are contributing in bringing peace and tranquility in the state.
Stating that she had been associated with the United Nations Organization on Drug Control (UNODC), the Governor said she had joined many conferences and video conference in which Myanmar, Sri Lanka, Vietnam and India participated as a collective effort to fight against drugs menace. In Manipur, there are many NGOs and Organizations working tirelessly against drugs menace and many cases have been reported where women are used in smuggling drugs and many other are addicted to psychotropic drugs. This is a serious issue and we have to collectively focus on the issue. We need to organize such functions from time to time to bring focus on our society on the issue of drugs menace, she added.
The Governor said that today's function is important as it gives an opportunity to acknowledge the dedication and hard work of the security forces. It is important to gain appreciation and recognition from the Government/Authority as well as from the public at large. Governor further added that each and every citizen should also participate and contribute to fighting against drug abuse and the smuggling of drugs.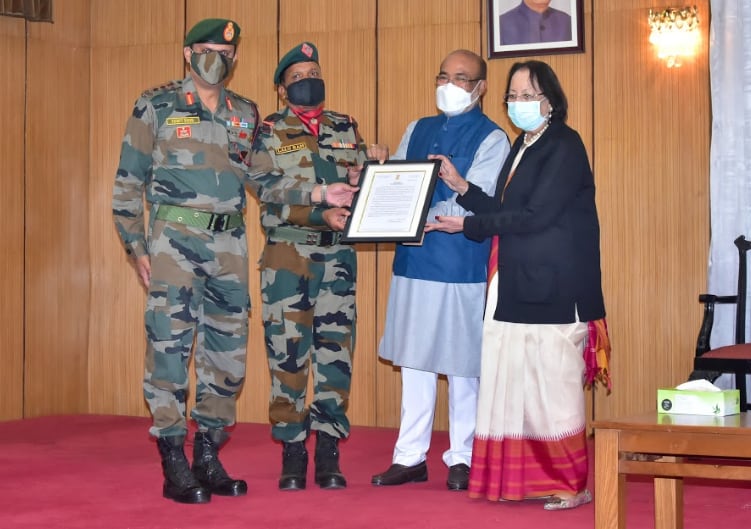 Congratulating the recipients, Chief Minister N. Biren Singh said that Manipur has been facing various problems regarding drug abuse, drug smuggling, poppy plantation among others. Due to the active involvement of the Security Forces, Manipur is becoming a normal state attracting many tourists. He appreciated the dedication of the Assam Rifles who are not only dealing with insurgents but are also involved in eradicating poppy plantation and other illegal activities that are prevailing in the state in collaboration with the State Police, he added.
The Chief Minister further added that Rs. 10 crore has been earmarked in the budget to build a memorial for Major Bob Kathing at Ukhrul. Major Laishram Jotin Singh Ex-gratia Scheme has been launched to honour defence personnel of the State who have sacrificed their life for the nation. There is also a plan to hoist the biggest National Flag at INA Memorial, Moirang, he added.