Guwahati: The Commanding Officer of 46 Assam Rifles, his wife and eight-year-old son and four soldiers were killed in an ambush by suspected militants in Churachandpur district of Manipur on Saturday. Five soldiers were also injured in the attack which took place at around 10 am near S Sehken village under Behiang police station, which is located close to pillar number 43 on the India-Myanmar border.  
Colonel Viplav Tripathi had gone to a forward camp on Saturday and was returning when his convoy was ambushed, the news agency report said.
"Five soldiers including Colonel Viplav Tripathi, Commanding Officer of 46 Assam Rifles, have made the supreme sacrifice in the line of duty. The family of the Commanding Officer – wife and child – also lost their lives. DG and all ranks of Assam Rifles offer condolences to the brave soldiers and families," the Assam Rifles said in a statement.
Meanwhile, Manipur-based militant group People's Liberation Army, or PLA, has claimed responsibility for the attack on the AR convoy.
In a statement, the proscribed outfit claimed they had no report that the convoy of Colonel Tripathi had his family members and further warned that 'in a war zone' Indian security forces should never bring their family members.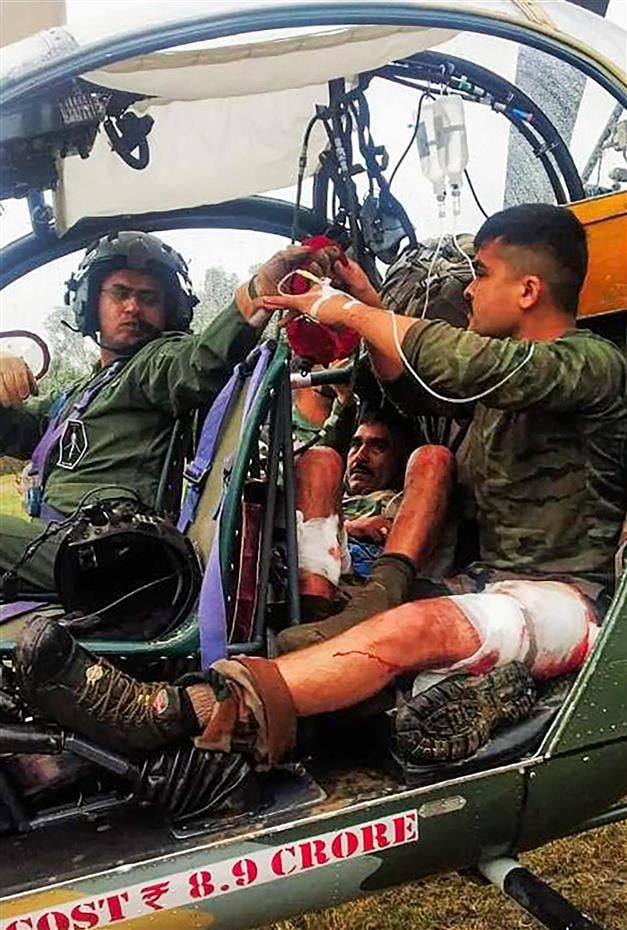 Colonel Tripathi was posted in Mizoram before Manipur.
Prime Minister Narendra Modi tweeted his condolences and condemned the attack on the Assam Rifles convoy. "Strongly condemn the attack on the Assam Rifles convoy in Manipur. I pay homage to those soldiers and family members who have been martyred today. Their sacrifice will never be forgotten. My thoughts are with the bereaved families in this hour of sadness," PM Modi tweeted.
Defence Minister Rajnath Singh condemned the attack and gave his condolences. "The cowardly attack on an Assam Rifles convoy in Churachandpur, Manipur is extremely painful and condemnable. The nation has lost 5 brave soldiers including CO 46 AR and two family members. My condolences to the bereaved families. The perpetrators will be brought to justice soon," Singh tweeted.
Manipur Chief Minister N Biren Singh strongly condemned the terrorist attack and tweeted that a counter-operation has been launched to track down the terrorists. Biren visited Shija Hospital here and met one of the soldiers who was seriously injured in the attack.
Meanwhile, senior Congress leader Rahul Gandhi lashed out at the government for its "failure" to prevent the attack. "Manipur attack again proves that the Modi government is incapable of protecting the nation," he was quoted as saying by PTI.
In 2015, 20 soldiers were killed in an attack by terrorists in Manipur, after which the Army launched a surgical strike on their camp.
The Assam Rifles is a paramilitary force that operates under the Army's control and is used mainly for counter-insurgency operations in the northeast, though it comes under the Home Ministry for administrative purposes. With agency inputs