Imphal: Law & Legislative Affairs Minister, Th Satyabrata inaugurated the Canteen building at Lamphel Court Complex, Imphal on Saturday in the presence of  Justice Kh Nobin Singh, Judge High Court of Manipur and Justice A Bimol Singh, Judge High Court of Manipur and Nungshitombi Athokpam, Secretary Law, Government of Manipur.
Minister Satyabrata said that he felt happy that developmental projects such as canteen building construction are taken up in the Law Department.
"The Government will try to find a way or solution to all the prevailing problems faced by the public of the state. Quality food, good hospitality and management are the main prerequisites of a canteen. I strongly support Justice Nobin's view that a committee should be formed to look after varied issues", he also stressed.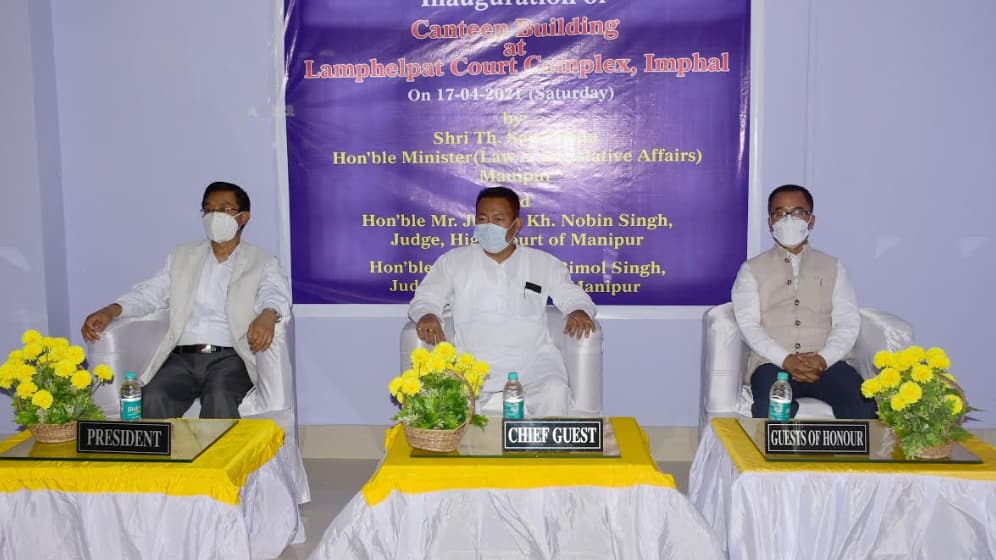 Justice Kh.Nobin Singh elaborated on the different problems encountered by the law officials at the Lamphel Court Complex in the absence of proper food canteen earlier. He suggested that it would be a good step if a committee is formed to look into the diverse affairs and activities of the newly inaugurated canteen.
Law Secretary Nungshitombi Athokpam delivered the vote of thanks during the function.
Advocates, concerned officials and staff of Lamphel Court Complex and Law Department attended the function.