Imphal: As part of the effort to bring about equitable development in the State, Chief Minister N Biren Singh Friday inaugurated 30 developmental projects under different Departments at Tamenglong District. He also laid foundation stones for nine other projects to be taken up in the district.
The Chief Minister along with his Cabinet Ministers were accorded a warm welcome by Forest and Environment Minister Awangbow Newmai and Deputy Commissioner Armstrong Pame upon landing at 44 Assam Rifles' helipad at Tamenglong District HQ at around 10:45 am. This is The Chief Minister's sixth visit to the district.
N Biren, then, headed to Carpentry Area of the district headquarters and inaugurated the Phase-I of the Water Supply Scheme at Hangoipat taken up under the Jal Jeevan Mission at a total estimated cost of Rs. 59.68 crore. The project will provide a connection to around 2,547 households. The Chief Minister laid the foundation stone of the project during his maiden visit to the district on November 15, 2017. The Phase-II of the Water Supply Scheme is being developed at Joulen in Gadai Range and it is likely to be inaugurated before the onset of monsoon.
Later, the Chief Minister inaugurated 29 other projects at a public function held at Tamenglong Mini-Secretariat. The inaugurated projects which have an estimated total cost of around 17.5 crore rupees included Sadbhana Mandav at Tamei, Rain Water harvesting and Reservoir at Tamei, Langmai Higher Secondary School under School Fagathansi Mission,  50 bedded Boys Hostel at Chiuluan, 17 projects under Multi-Sectoral Development Programme like Additional Class Rooms, PHSC, OT etc, Hospital Equipment and Telemedicine facilities under Hill Area Development Programme (HADP), One Stop Centre, Geriatric Ward at Tamenglong District Hospital Campus, Agro Based (Banana Fibre Processing) Unit under Rashtriya Krishi Vikas Yojana, Check Post cum Barrack Type Quarter under FCA at Tamenglong Range Office, TRIFED Storage Godown at Tamenglong Forest Range Office and Bailey Bridge (100 ft) over Amang River on the road from Tharon to L. Pabram.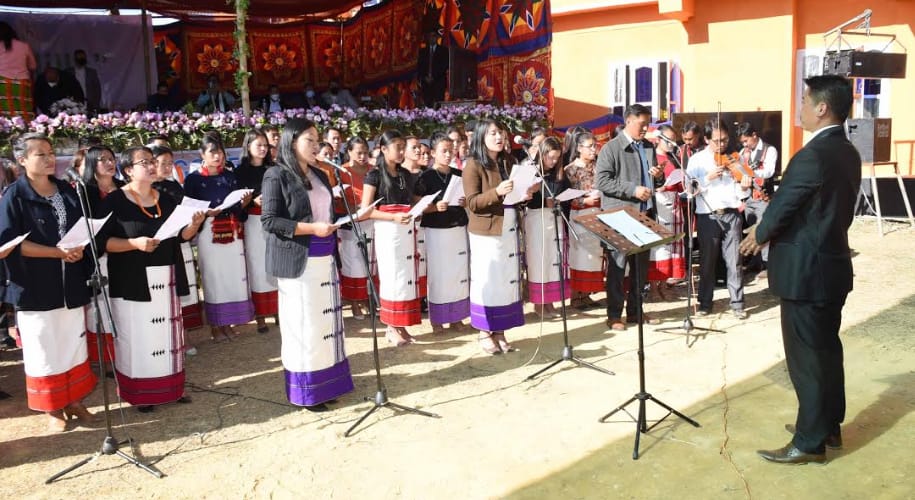 He also laid the foundation stones for nine other projects with a total estimated cost of around 50 crore rupees including construction of Indoor Sports Auditorium Multipurpose hall at Tamenglong HQs, Boys Hostel at New Tamenglong College Site, Infrastructure for Science and Commerce Stream at new campus of Tamenglong college, Expansion of Mini-Secretariat Road, Bailey Bridge (100 ft) over Marangthang River on the road from T03 NH 53 to T04 under Tousem Block, Bailey Bridge (150 ft) over Irang River on IT road Makui Golai to Lasan, Road from L 025 (Oktan to Nurathel), Road from L 028-T02 to Kahulong and 33/11 Kv sub-station at Khongjaron (2×5 MVA).
Addressing the gathering, N. Biren Singh stated that "Go to Hills" Mission was announced in his maiden speech as a Chief Minister on March 15, 2017, the day on which a new Government was formed in the State to bridge the gap between hill and valley regions and bring about balanced development in the state.