Imphal: Manipur Chief Minister Nongthombam Biren Singh Friday highlighted the state's strengths and opportunities for multilateral business partnerships as the state for the first time hosted the B20 conference.
With a rich cultural heritage, Manipur has a huge potential for business, especially in tourism, healthcare, and handloom. Moreover, with a population of just some 3 million in an area of 22,300 sq. km., the state is the land gateway of India to Southeast Asia and has the perfect setting for implementing India's Act East Policy. It has the potential to build a bridge between East Asia and India, said Biren, who welcomed G20 delegates, officials, and entrepreneurs here.
The Chief Minister expressed his confidence that the conference would be a great platform for the state and that it would also shape policies towards sustainable growth and development while ushering in peace and progress in line with the theme of 'Vasudhaiva Kutumbakam' 'One Earth, One Family, One Future'.
Addressing the congregation of G20 delegates, Biren stated that once the stretch of Asian Highway within Myanmar gets completed, road travel from Manipur to Bangkok within 16-18 hours will be possible. Plans are afoot to start international flights from Imphal to Mandalay in Myanmar and Bangkok in Thailand, he said, adding that Imphal International Airport would soon have a new integrated terminal and an air cargo terminal. Train services would also reach Imphal City by next year.
He further highlighted that Manipur has been recognised as the "most improved small state" in the overall category for three years in a row. This has been facilitated by an improved security scenario.
The Chief Minister further informed that his government has adopted a new industrial and investment promotion policy to promote investment in the state. To promote 'Ease of Doing Business', the Manipur Industrial Single Window Clearance Act, 2021, was enacted. "Given the importance of logistics, the Manipur Integrated Logistics Policy, 2022," was notified, he said.
The Chief Minister continued that Manipur has a strong base of qualified healthcare professionals and specialists and that nurses from Manipur are in high demand across India. Health institutes in the state not only cater to patients from neighbouring states but also from neighbouring Myanmar, presenting attractive investment opportunities in the area of medical tourism.
Manipur has huge tourism potential because of its rich natural, historical, and cultural heritage, and the state gave polo to the world, he added. Manipur also has a strong sporting culture and offers scope for investment.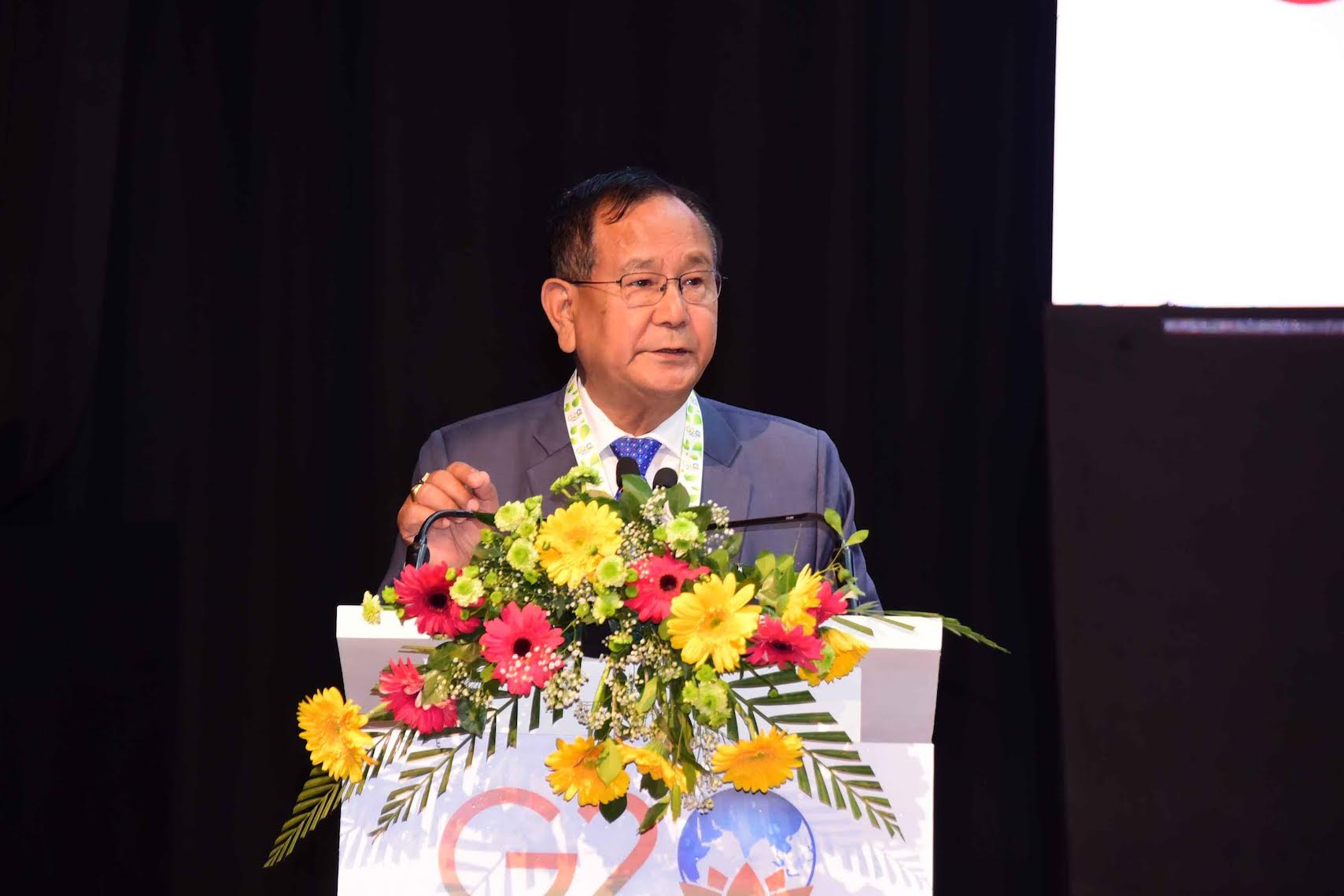 "Despite a small population, my state has produced numerous successful sportspersons, including 19 Olympians. The government had been promoting the state as a preferred tourism destination and had come up with an investor-friendly tourism policy," he added.
Biren informed the congregation that Manipur has huge untapped potential in medicinal plants, horticultural products, aromatic plants, and spices. Local produce like aromatic black rice, pineapple, oranges, ginger, etc. is famous for its unique taste. He went on to say that Manipur has a young and dynamic population. Fifty per cent of business registrations for MSME (Micro, Small, & Medium Enterprises) in Manipur are owned by women, compared to about 20% for the rest of the country.
The biggest strength of the state, he said, is its English-speaking youth, adding that they have done extremely well in the services sector, including hospitality, nursing, customer care, computer skills, health and wellness, etc. He was confident that the platform provided by the conference would go a long way towards helping explore investment and partnership opportunities and shaping policies towards decisive action.
While addressing the gathering, Union Minister of State for Commerce and Industry Som Parkash stated that as India holds the Presidency of the G20, the country will make sure this presidency is "inclusive, ambitious, decisive, and action-oriented."
He continued that, as the world endeavours to pave the way towards a global economic recovery, it is of the utmost importance to acknowledge is that the success of this recovery will largely depend on the actions of businesses. He added that the G20 must provide a crucial forum for businesses to convene and collectively address key global issues with a unified voice.
He expressed that India has a large and growing economy, a highly skilled workforce, and a rich cultural heritage that can serve as a bridge between different nations and cultures. He also expressed hopefulness that the country has a strong commitment to sustainable development.
The inaugural session was followed by a plenary session, where topics including investment opportunities and supporting ecosystems for doing business in Manipur, opportunities in the core sector, healthcare and medical tourism, tourism and hospitality, ICT, handlooms, and textiles would be deliberated. Representatives of G20 and other countries also addressed the plenary session.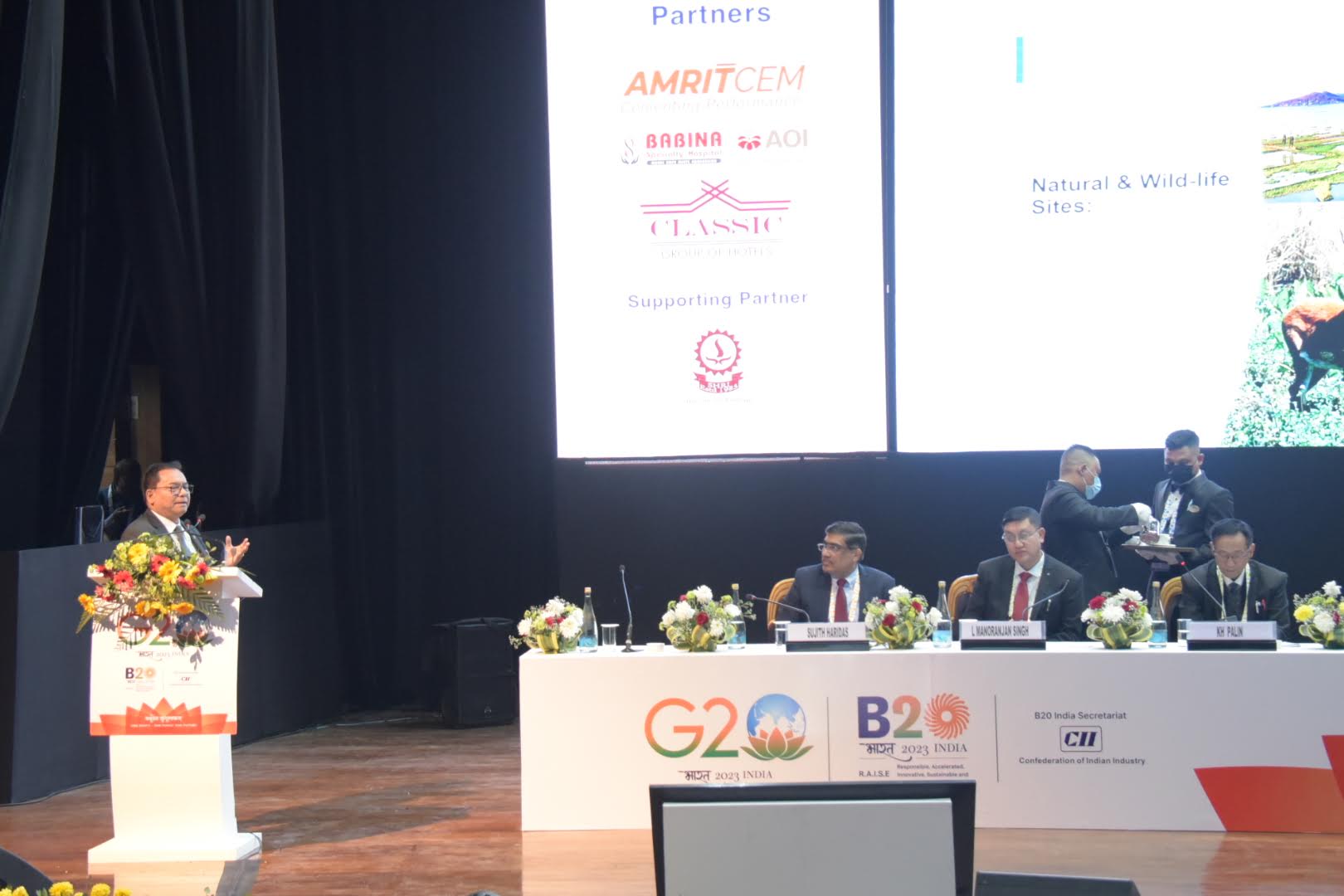 The inaugural session was also attended by ministers, members of the Legislative Assembly, and senior government officials, among others.
Ministerial team receives B20 delegates
Earlier in the day, a ministerial team led by Textiles, Commerce, & Industries Minister Nemcha Kipgen, Education Minister Th. Basantakumar Singh, Transport Minister, Khashim Vashum, and MLA, Lamlai AC, Kh. Ibomcha Singh, warmly received the B20 delegates at Bir Tikendrajit International Airport, Imphal.
It may be mentioned that Manipur is hosting the first of the four B20 sessions scheduled in the North East, which is the official G20 dialogue forum for the global business community.
Delegates from 23 nations representing Australia, Argentina, Bangladesh, Bhutan, Chad, Canada, China, France, Greece, Iceland, Japan, Nepal, Russia, the Seychelles, Singapore, South Africa, Switzerland, Tunisia, Uganda, the United States, and the United Kingdom are taking part in the B20 sessions scheduled in Manipur.
Besides the delegates from these countries, visiting dignitaries include 26 overseas business delegates and 24 diplomats, including ambassadors from these countries and India.