Imphal: Chief Minister N Biren Singh inaugurated the Conference Cum Buyer Seller Meet at Hotel Imphal, North AOC Wednesday. The meet was organized by Manipur Food Industries Corporation Limited, Department of Textiles, Commerce & Industry, Government of Manipur.
Speaking on the occasion as Chief Guest, N Biren Singh said that the State Government has been putting in tireless efforts to make Manipur a self-reliant state under Prime Minister Narendra Modi's vision of Atmanirbhar Bharat. He further stressed that fruits and vegetables produced in the state are more nutritious and of different taste compared to that of other states in the Country.
Informing that the State Government has started exporting black rice and other horticulture products in recent years, he added that an outlet for organic products had been opened at Pune and the Government is planning to open such outlets in other metropolitan cities too. This would not only provide better returns to farmers and entrepreneurs but also provide employment opportunities. He also stated that the Government had been trying to make Manipur an organic state by avoiding use of chemical fertilizers and by using compost of phumdi biomass of Loktak Lake.
Appreciating Agricultural and Processed Food Products Export Development Authority (APEDA), Ministry of Commerce & Industry, for supporting the State Government in organizing the conference cum meet, he said that such programme would provide a platform for interaction of local entrepreneurs with potential buyers thereby increasing their exposure. This will also strengthen the Government's aim of achieving self-reliance, he added.
CM Biren further said that the Government, considering the hardship faced by agriculture sector due to shortage of water, had taken up certain projects to ensure adequate supply of water for agricultural activities.
Delivering his presidential speech, Commerce and Industries Minister Thongam Biswajit Singh informed that the Department of Textiles, Commerce and Industries is setting up a Mega Food Park under which 2000 MT capacity cold storage, 5000 MT warehouse , workshed and other facilities would be available. In addition, 100 MT cold storages and 500 MT warehouse would be constructed in eight districts for primary processing of raw materials.
He further stated that a Food Testing and Research Laboratory would be set in the state under the Ministry of Food Processing Industries, Government of India. The Laboratory would enable testing of food products of the state which were earlier sent to different States like Delhi, Kolkata and Karnataka for testing, he added. The Minister also informed that a Ready to Serve (RTS) Juice Line with Aseptic Bricks Filling (Tetra Pak) had also been set up at Nilakuthi Food Park.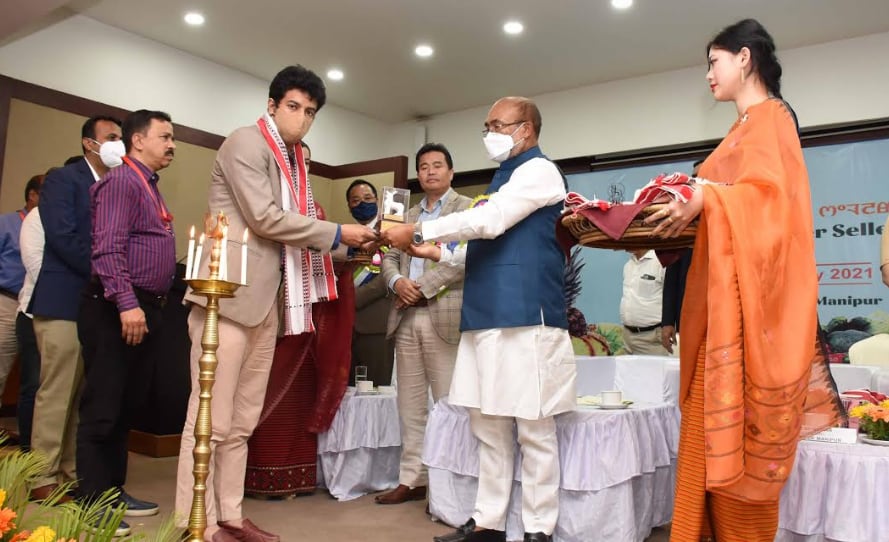 During the programme, the Chief Minister also launched the Prime Minister Formalisation of Micro Food Processing Enterprises (PM FME) Scheme. The Scheme aims to provide financial, technical and business support to micro food processing units, Farmer Producer Organizations (FPOs) and Self Help Groups (SHGs). The Scheme will also promote One District One Product to reap the benefit of scales in terms of procurement of inputs, availing common services and marketing of products.
The inaugural programme was also attended by Additional Chief Secretary P Vaiphei, Commissioner RK Dinesh, Assistant General Manager, APEDA Sunita Rai, Government Officials and buyers and Sellers among others.