Imphal: Chief Minister N Biren Singh inaugurated Eco-Tourism Project at Thangmeiband Cheirao Ching in Imphal West District Wednesday. The Eco Tourism Project was developed under the Minister of DoNER (NLCPR).
Speaking on the occasion, N Biren Singh said that people in Manipur have been living amidst tensions within the confines of their homes with limited options for spending leisure time in life. With the improvement of the situation in the past few years, the Government had been trying to give spaces for spending leisure time by developing such sites which could also attract tourists, he added.
The Chief Minister informed that the foundation stone for Cheirao Ching Eco-Tourism Project developed at an estimated cost of around 15 crores rupees was laid by Prime Minister Narendra Modi during his visit in March 2018. The project was completed within three years though it was hindered for quite a long time due to delay in getting Forest/Environment clearance and COVID-19 pandemic.
Observing that development projects should always be planned with a vision, he stated that various localities are now frequently flooded due to rampant constructions in Lamphelpat which should have been kept as a wetland.
Stating that it is heartening to learn that local clubs of Thangmeiband are ready to get involved in running the tourist site, the Chief Minister said that a modality would be formulated soon in consultation with the local MLA and local clubs for the operation and maintenance of the site. He further said that the Government is planning to install electric cars for elders and differently-abled people, who wish to reach the towers located at the hill-top.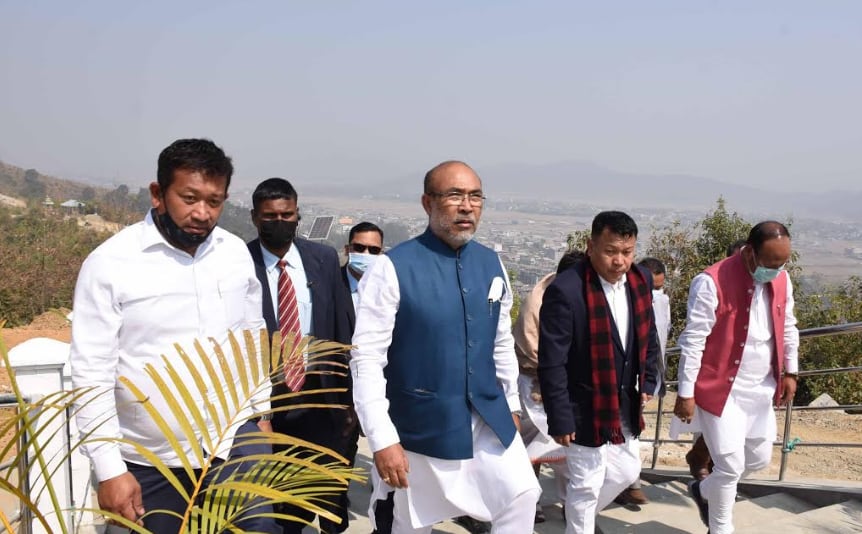 He also said that solar lamps would be installed up to the hill-top and security would be deployed for the convenience of the visitors for night seeing as well. Expressing hope that the project would definitely benefit local people, he sought support and co-operation from them regarding proper maintenance and running of the site.
On COVID-19, he said that people still need to be careful and strictly maintain COVID Appropriate Behaviours because some States are currently facing the second wave of the pandemic. As a preventive measure, Biren said, testing of passengers coming from five states has already begun at Bir Tikendrajit International Airport.
Tourism Minister Oinam Lukhoi, CAF and PD Minister Thokchom Satyabrata, Deputy Speaker Kongkham Robindro and Thangmeiband AC MLA Kh Joykishan, Chief Secretary Dr Rajesh Kumar and other high ranking officials also attended the function among others.