Chandel: Chandel district joins the state in celebrating the 4 years completion of the citizen-centric governance of the BJP led government at District Head Quarters Chandel. The celebration was organised by the district administration.
Speaking on the occasion as the Chief Guest, Additional Deputy commissioner Chandel, Ksh. Siddharth enumerated the achievements of the present government in the last 4 years. He further added that Chandel district joins the celebration which started from the 10th of this month and various programs like Cleanliness drives, Tree plantations, Covid awareness, Rozgar divas, Har Ghar nal etc had been conducted throughout the district. Speaking about the developments of the district he said Chandel became one of the seven districts where free dialysis in the district hospital had already started.
Speaking on the war on drugs he said that under the supervision of the SP Chandel Shri Madhunimai the district police had been able to destroy 1236 acres of poppy plantation and seized and destroyed 11800kgs of the poppy. He also said that Chandel district had also become an Open Defecation free.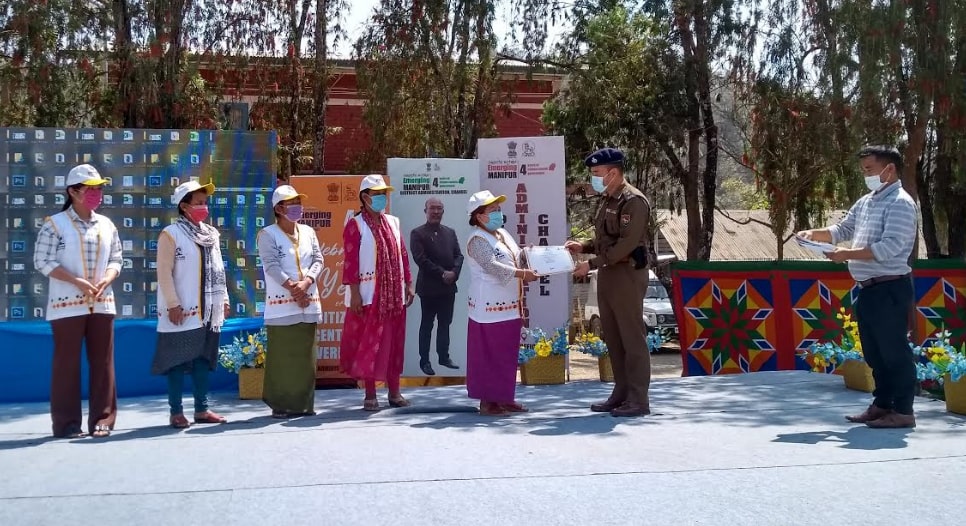 He further added that Chandel has been declared as the 10th most improved district of all Aspirational district. He further said that being an Aspirational district, the district had become a focus area and the people of the district should take this opportunity and help in developing the under developing areas of the district.
As part of the celebration hearing aids, wheelchairs and spectacles were also distributed to the beneficiaries. Stalls of different departments and other services are also being displayed as part of the celebration. Cultural shows and solo songs were presented by the talented youths of the district.
All the DLOs, Government official staffs, and a large numbers of public attended today's celebration.