Manipur has been facing the drug menace for the last four-five decades and the fight against drug abuse continues to this day. Among many other factors including socio-economic ones, one of the most significant factors is the easy availability of drugs. This has a  lot to do with the fact that Manipur borders Myanmar which along with Thailand and Laos is referred to as the Golden Triangle of Drugs.
Manipur, because of its proximity to Myanmar, has become a transit point of drug smuggling leaving a trail of devastation along the route. To compound matters, in many remote hilly areas of the state, the large-scale poppy plantation has become an emerging trend. It is even reported that drug manufacturing units have also come up in the state.
Governments in the past have been dealing with the drug menace with varying degrees of success. The present government of N Biren Singh has declared a 'War on Drugs'. State law enforcement agencies have been carrying out the destruction of poppy plantation drives, seizures of drugs, arrest of peddlers, and destruction of drug manufacturing units among others. Though sporadic battles have been won, the war itself against drugs is far from over.
The drug Tsunami hit the state in the 1980s with devastating effects. It almost wiped out a whole generation in the prime of their youth at that time. The Tsunami also brought about economic ruin to many families, left a trail of widows and orphans staring at a very bleak future.
While it is extremely important to dry up the easy accessibility of drugs in the state by every means possible, it is equally important to wean away youths from drugs by channeling their energy and talent in productive pursuits. Making good quality education accessible, especially to the children of the economically challenged sections, should constitute a very important part of this venture. There should also be proper policies to incentivize youth to actualize their potential to its fullest.
But what about those who have fallen victim to drug abuse? Every stakeholder unanimously agrees that they need to be treated and rehabilitated so that they also become a part of our society in the true sense. Let's get to know some people who are playing a very significant role in this process of making these victims of drug abuse, fully able and functional members of our society.
Dr Senjam Gojendra Singh is an Assistant Professor at the Department of Psychiatry, Regional Institute of Medical Sciences (RIMS), Imphal and is also the Hony Secretary, Indian Psychiatry Society, Manipur State Branch. He has been involved in treating drug abuse victims for quite some years now.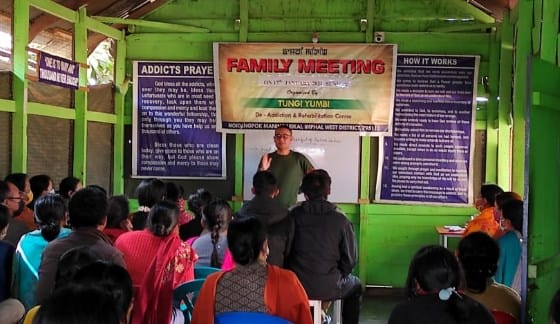 Asked to walk us through the process of treatment for alcohol and drug abuse patients, Dr Gojendra said, "a mild to moderate consumption of alcohol can be managed in an outpatient setting. For most of the addictions, the detoxification process takes around 2 weeks". He also stressed the need to supplement medical treatment by counseling such as Motivational Enhancement Counseling (MET), Relapse prevention counseling (RP), and Group therapy for a successful outcome. In severe cases of substance dependence in Heroin Addiction (Opioid), there are withdrawal symptoms such as joint pain, craving, sexual dysfunction which persists for a few weeks to a few months, and the treatment process should address those issues, he added.
According to Dr Gojendra, continued use of most of the psychoactive substances results in various complications including deterioration in physical health like the formation of fatty liver, the onset of Cirrhosis, G.I.T problems, risk of HIV/Hepatitis C and Hepatitis B if the person injects drugs such as Heroin, Spamo Proxyvon.
Then there arise mental health issues like anxiety disorders, depression, suicide, psychosis illness such as hallucinations, delusions, aggressiveness, irritability among others.
Drug abuse also exacts a social price in terms of family problems, marital disharmony, divorce, separation is very common.
It also leads to frequent incarceration due to theft, getting into frequent fights with others, rash driving, accidents. Drug abuse also leads to loss of job, absenteeism, frequent changing of jobs, among others, Dr Gojendra added
On whether drug users come forward personally or are forced/coerced or persuaded by family and friends, Dr Gojendra said, "If it is a mild form of substance dependence and the person motivates himself/herself then they come on their own for treatment. But if it is a severe form of dependence with lots of complications then they need to be coerced by family members. In some cases, many addicts need to be brought for treatment by force. Some of the severely addicted patients need to be put in rehabilitation centres for their further management".
Talking about specific programmes taken up by RIMS, Dr Gojendra informed us that the Psychiatry Department, RIMS is one of the Regional centers in India for training and implementation of various Government Programmers in Substance abuse in Northeast India. "We have started "Drug Treatment Clinic (DTC)" under the Ministry of Health & Family Welfare, Govt of India. We have an in-patient detoxification programme for all substances including opioids. For long-term management, we provide Opioid Substitution Treatment (OST) with Buprenorphine and Methadone. We also provide all kinds of counseling such as MET, RP, Group counseling along with other pharmacotherapy," he added.
Dr Gojendra lauded the Manipur Government's effort in fighting the drug menace in the state and feels the slogan" War on Drugs" is very appropriate in today's context. In the early 90s, many persons died due to HIV/AIDS among injecting drug users. Now also in spite of all efforts by various agencies/ stakeholders, heroin and other psychoactive drugs are freely available". Stating that many people are also dying due to complications of heavy alcohol consumption, he stressed the need for strict regulations and awareness programmes targeting the common people.
On the role of parents in fighting against drug abuse, Dr Gojendra feels that parents should be role models for their kids. "Our children try to imitate or copy whatever their parents do, be it good or bad". According to him, it is very important that parents have a cordial and friendly relationship with their children. "The bonding between parents and children is very important in deterring children from taking help of drugs whenever they face any major problem in life."
He also advocates awareness programmes for children starting as early as from class 6-8 standards, so that they are informed about various harms caused by psychoactive substance use. He also envisions an important role of community members by actively participating in identifying, diagnosing, referring drug addicts for treatment.
Referring to the theme of this year's International Day against Drug Abuse and Illicit Trafficking (observed every 26th of June)," Share the facts, save a life", he says, "I think the majority of our people in the community are not properly aware of the negative consequences of drug use and lots of misconceptions still persist in our minds regarding drug use. We need to clarify those doubts in the mind of the public".
In this context, he informs us that the Indian Psychiatric Society, Manipur state Branch has taken initiative this year of publishing many relevant articles on psychoactive substance use for public awareness in local print and electronic media.
In the treatment and rehabilitation of drug abuse victims, the rehabilitation centres play a very important role in bringing them back to the mainstream. We also talked to the chief functionaries of two such rehab centres: Tungi Yumbi and Holistic Vista SUD treatment centre to find out in more detail how they go about this process of treating a drug abuse victim.
Thingujam Pradeep Singh, the Chief Functionary of Tungi Yumbi, is a recovering addict who has been clean for the last 17 years and still counting. Tungi Yumbi, a De-Addiction & Rehabilitation Centre, was established on June 14, 2018, at Moidangpok Maning Leikai Imphal West. All the other staff are also recovering addicts. "As the whole team is made up of former addicts, we have the experience to deal with the problem," Pradeep asserted. Before establishing Tungi Yumbi, Pradeep has also served as a counselor in other reputed organisations.
Tungi Yumbi translates into Manipuri as 'Future Pillars', the aim of establishing this centre, according to Pradeep, is not only to treat and rehabilitate but also to make ready future pillars of our society.
"We specialize in drug-related treatments namely de-addiction and rehabilitation programs and have been running this Centre successfully for the past 3 years with a unique aim to eradicate drug abuse-related problems that have been creating chaos in our society. As an outcome of our fully dedicated and sincere services we give to our clients, the name TUNGI YUMBI itself has become a brand name among similar institutions," Pradeep added.
Meditation/Yoga, Occupational Therapy, Reading/Input Sessions, One-to-one counseling Group Therapy, Family counseling (Group & one-to-one) and Family education programmes , Sharing caring sessions, Games (Indoor & Outdoor), Follow-up service and Regular health checkup are some of the services provided at Tungi Yumbi. He informs us that his centre has treated almost 1280 clients and the recovery percentage is 35% which is considered a huge success.
Pradeep feels it is very important to  spread awareness among the general population, schools, colleges etc. Local clubs, associations, CSOs, meira paibis, according to Pradeep, play an important role in the prevention of drug abuse but many of them lack proper knowledge. "So in order to educate them with adequate knowledge we plan to conduct mass awareness programs," he informed us. He also emphasized the need of using traditional media as well as social media to spread awareness.
Speaking out strongly against stigmatization, Pradeep says, "The worst foe of an addict is stigmatization and blaming and criticizing him/her for being a drug." Instead, "drug addicts should be encouraged to take treatment in a good treatment or rehabilitation centre, so that they achieve complete abstinence from drugs & alcohol," he added. Pradeep strongly advocates the inclusion of harm of drugs and how to prevent it in schools/college syllabus. "The ultimate aim should be to help them become a productive member of our society," said Pradeep signing off.
Lalit Sapam, also a recovering drug addict, is the Chief functionary as well as the founder of "Holistic Vista Substance Use Disorders Treatment Centre" which was established on June 17, 2016, and is located at Ningthemcha Karong, Imphal West. Lalit holds a Master's degree in Sociology and is a licensed holder of ICAP-1(International Certified Addiction Professional-1) under Colombo plan secretariat, Colombo. He has very impressive credentials, in terms of training and participation in various programs and workshops, making him just the right person to run a rehab centre.
"The sole reason why I opened this rehab is to provide treatment to those who are in need in our society. I was also an ex-user 16 years back. Since 2004, I have been working in this field as an addiction professional till date and will continue to do so to help other users to overcome this horrible nightmare and fatal disease called "Addiction", was how Lalit explained the idea behind starting Holistic Vista.
The objective of Holistic Vista "is to provide treatment for individuals suffering from the disease of addiction in order to resume a better way of living and stay away from the chronic manifestation of addiction", he added. Acknowledging that substance abuse has become a huge problem in the country with related issues like mental health problems, infections, social stigma, criminal activities, etc., Lalit stressed the importance of enhancing the knowledge and practices about the services being provided to substance users.
Lalit also elaborated on 'Whole person recovery' (WPR), as improving the quality of their lives by helping them to identify and deal with personality defects, strengthen interpersonal relationships, develop healthy work ethics and financial management, develop healthy recreational activities establish a crime-free life, become aware of risk factors for relapse and develop positive coping skills to sustain their recovery through follow-up services. It also involves providing guidelines to family members to break out of the 'victim mould' and emerge as strong survivors.
Holistic Vista has the provision of a library, Games/Sports, Art, and Craft to engage the patients in different activities for their capacity building. It also provides psychosocial interventions in terms of individual and group counseling, basic psycho-education about the nature of the illness, the importance of treatment adherence, motivation, relapse prevention, counseling for occupational rehabilitation. Yoga and meditation also form part of the curriculum as a means of enhancing the spiritual health of the patients.
Talking about the challenges of running a rehab centre, Lalit lists lack of training activities, lack of educational and vocational activities for the drug addicts and maintaining the motivation of the patients to adhere to the treatment. Another major challenge faced by the center, Lalit says, "is the inability to collect required fees timely from the family of the patient".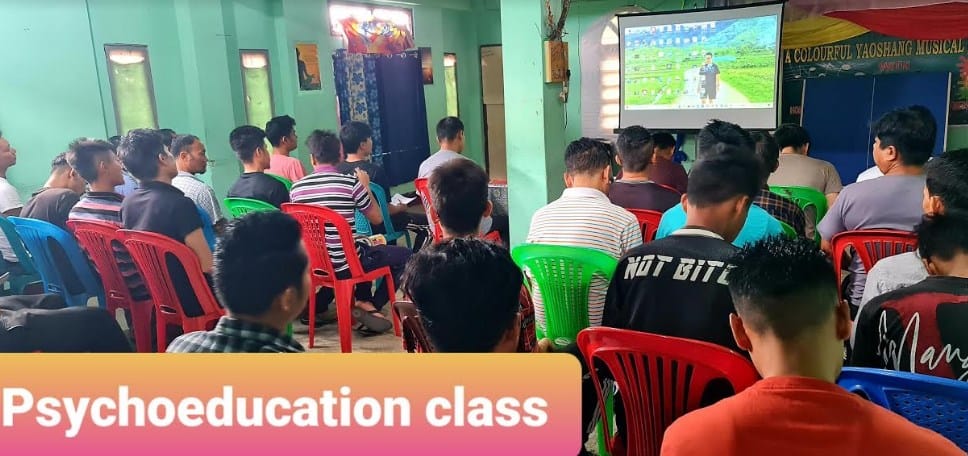 To make the process of rehabilitation more successful and meaningful, Lalit stresses the need to advocate and encourage policies, schemes, and/or laws that incorporate the concept of the "whole person recovery" in order to offer opportunities to recovering drug users to receive basic education, vocational education, and social livelihood skills from all types of drug treatment and rehabilitation services at a national and state level.
Fully rehabilitating people suffering from alcohol and drug abuse is and should form an important part of the 'war on drugs', if we have to rid our society of the devastations brought about by drug abuse. Government agencies, doctors, rehab centres, parents, friends, relatives and society at large, all have very important roles in fully rehabilitating these victims of drug abuse.