Imphal: Bolstering State's COVID-19 fight, Chief Minister N. Biren Singh opened a 100-bedded dedicated COVID Hospital at Integrated Ayush Hospital located at Keirao in Imphal East and inaugurated a PSA Oxygen Plant, first of its kind in hill districts, at Churachandpur Wednesday. He also reviewed the present COVID-19 situation of Churachandpur and Pherzawl districts at Churachandpur district headquarters.
CAF and PD Minister Th. Satyabrata, Manipur Legislative Assembly Deputy Speaker K. Robindro, State Planning Board Deputy Chairman L. Rameshwor, Principal Secretary (Health) V. Vumlunmang and others also attended as dignitaries at the inauguration of the hospital.
Speaking on the occasion, N. Biren Singh said that the capacity of the hospital would be upgraded to 200 beds if required. Expressing serious concern over not following SOPs by some people, the Chief Minister said that it can become a reason for the increase in positive cases. Stating that the State Government had significantly improved in health infrastructures and oxygen production capacity in the past few weeks, the Chief Minister informed that the Health Directorate now has around 1800 oxygen cylinders and 1000 oxygen concentrators.
In addition to the existing oxygen generating units, a cryogenic oxygen plant having a production capacity of around 1300 cylinders per day would be inaugurated soon at JNIMS, the Chief Minister said. As home isolation treatment without having the required amenities like separate rooms and toilets can also be one of the main reasons for fast spreading of the virus, the State Government is actively considering to limit this mode of treatment, the Chief Minister added.
Stating that mass testing is a must at this juncture, N. Biren Singh said that 50,000 RAT testing kits had been provided to all the districts recently. In addition to this, 1 lakh more kits had been ordered to intensify testing further, he added. The Chief Minister stated that the State Government is planning to add 100 ICU beds more to the existing figure.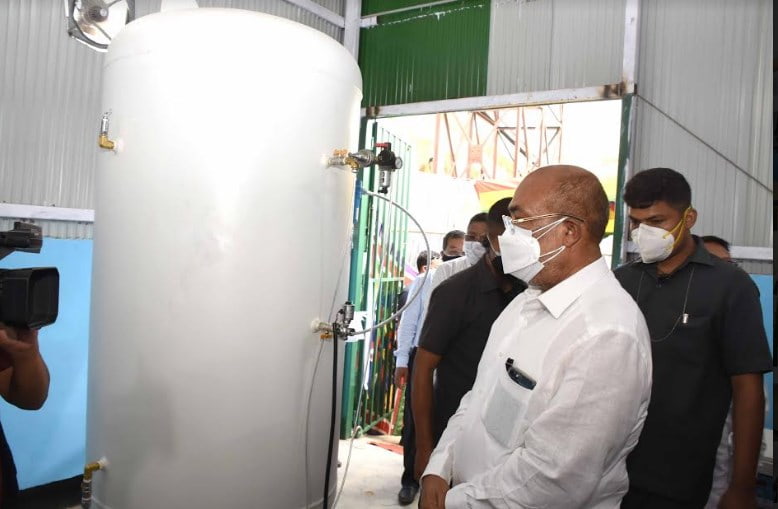 After the function, the Chief Minister travelled to Churachandpur district headquarters by road where he inaugurated the Mini-secretariat building of the district on his arrival. Later, he went to District Hospital complex and inaugurated the first oxygen plant of hill districts there. The plant has the capacity of producing 200 litres per minute (LPM). He also inspected the ongoing construction of the temporary administrative block of Churachandpur Medical College.
Later, he reviewed the present COVID-19 situation of Churachandpur and Pherzawl districts in the presence of TA and Hills Minister Vungzagin Valte, MLAs TN Haokip, V. Hangkhanlian, Ginsuanhau, DGP LM Khaute, ADGP C. Doungel, Principal Secretary (Health) V. Vumlunmang, Secretary to CM N. Geoffrey, DCs, SPs, CMOs, other officials and CSO representatives.
Speaking at the review meeting, N. Biren Singh said that Churachandpur has now become the first hill district of the State which has an oxygen generating unit. Moreover, it would also soon become the first hill district, which has a medical college, he added. N. Biren Singh further said construction of the temporary administrative block of the college is going on in full swing, and necessary procedures for early commencement of the first session would begin once the building is completed.
The Chief Minister said that he visited the district to convey the people of Churachandpur that they need not worry as the State Government would do whatever possible to save them from the pandemic. He observed that COVID-19 is not that dreaded like other critical ailments. It can be prevented if people properly follow the SOPs, he said while adding that it can be cured easily in 14 days if it is detected early and treated on time. As such, people should never hesitate in getting tested immediately if they experience symptoms, he observed.
N. Biren Singh also asked the DCs, SPs and officials concerned to strictly check the home isolation patients whether they are lodged in separate rooms having separate toilets. He also said that the district administration had also been authorized to engage the required manpower in consultation with local MLAs. The Chief Minister further said that every hill district would be provided three ambulances each with funds from TA and Hills.
Later, N. Biren Singh donated Rs 5 lakhs to Only Grace home and provided three oxygen concentrators to CMO Churachandpur and two oxygen concentrators to CMO Pherzawl.