Imphal: With the Beating of the Retreat and the spectacular Folk Dance Competition, the 74th Republic Day Celebration ended Friday. The closing ceremony was held at the Parade Ground of the 1st Battalion, Manipur Rifles in Imphal.
Governor of Manipur La. Ganesan distributed prizes to different categories of the March Pass Competition held yesterday. Chief Minister N. Biren Singh, Ministers, MLAs and top civil and police officers attended the ceremony.
For Uniform Contingent, Combined CDO Contingent (Thoubal/Kakching/Bishnupur) stood first, BSF Contingent stood second while 6th Battalion, MR (Guard of Honour) stood third position. For school contingents (Uniform) NCC Senior Air Wing ranked first, 65th NCC Senior Girls ranked second and Sainik School B secured the third position. In College contingents, Manipur College ranked first, GP Women College ranked second and DM College of Science (Girls) ranked third in the competition. In the Band Party, Young Eagle Brass Band, Sagolband A; 9th IRB Mahila Band with VDF Band, Imphal West and Home Guard (Female Band) secured 1st, 2nd and 3rd positions respectively. For Gate Construction, the Department of Tourism topped the list while the Forest Department and Social Welfare Department secured 2nd and 3rd positions. For Tableau, Horticulture and Soil Conservation ranked 1st while RUSA ranked 2nd and SAMAGRA SIKSHA, Manipur ranked 3rd in the competition. In the Cultural Dance Group, Rongmei Cultural Troupe, Noney District secured 1st while Meitei Inat Kanba Lup, Khurai Konsam Leikai secured 2nd and Rabunamei Dance Troupe, Senapati District secured 3rd position.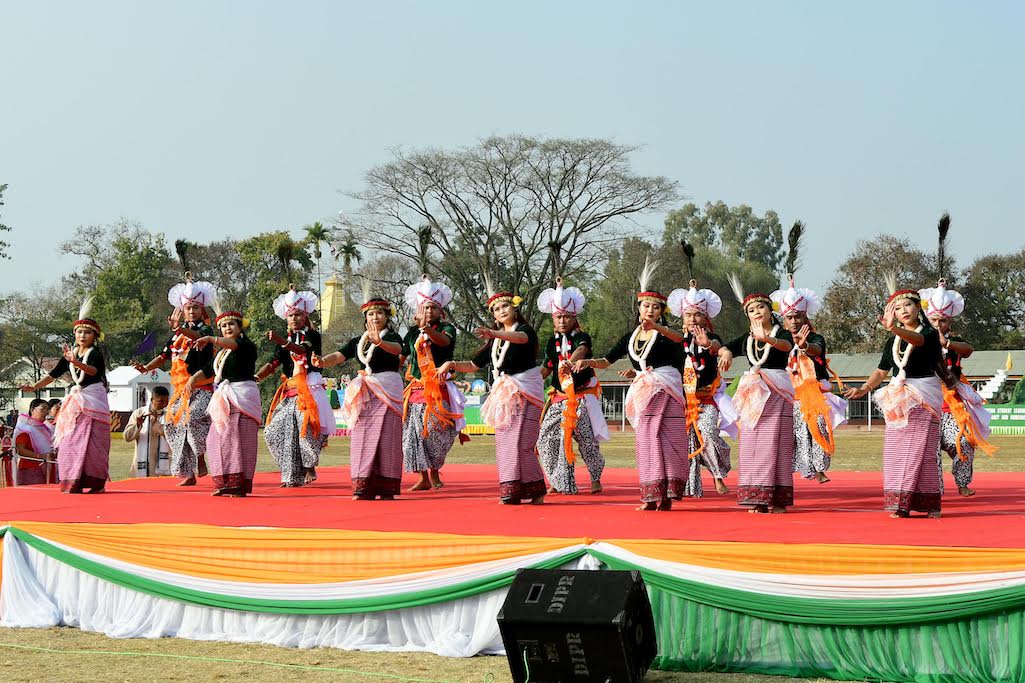 Special prizes were also distributed to Commandant 1st MR; H. Balkrishna Singh, Director IPR; Chief Engineers of PWD, PHED and WRD, Managing Director (MSPCL), Municipal Commissioner, IMC, Parade Commander Victoria Yengkhom, Commandant 2nd MR, Guard of Honour Commander T. Biswajit Singh, Addl SP, CMTW and Differently abled Contingent of Social Welfare department. Certificates of Appreciation were also given to CM Indigenous Martial Arts Academy, Thang-Ta Loishang Sana Konung and to L. Brojen, 1st MR Band Commander.
The Governor also distributed cash prizes to the winners of the folk dance competition held today at the ground. Governor handed over a cash prize of Rs. 1 lakh to the winner of the competition – Meitei Inat Kanba Lup, Khurai Konsam Leikai for their spectacular Thougal Jagoi. A cash prize of Rs. 75,000/- was handed over to Rabunamei Dance Troupe, Senapati District (Mao-Naga Dance) for securing 2nd position and Rs. 50,000/- to Parbung Hmar Youth Association Cultural Troupe (Hmar Bamboo Dance) for winning 3rd position in the competition.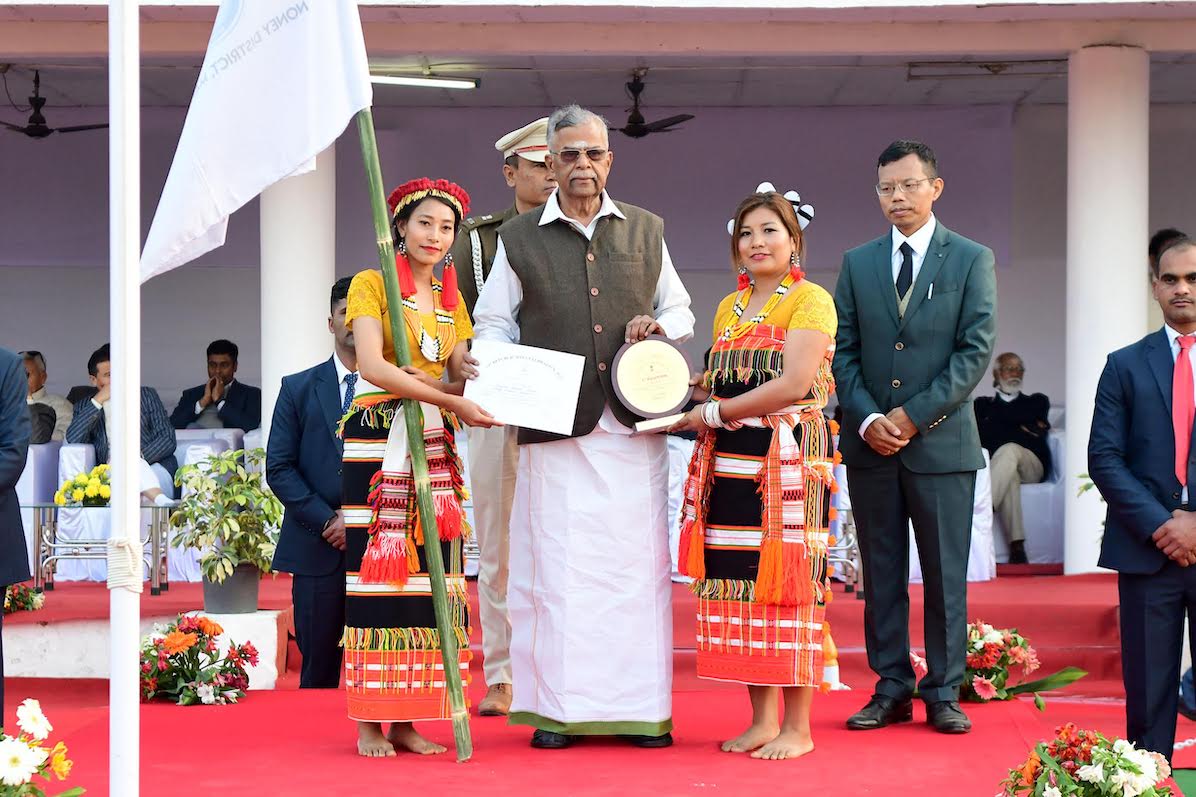 Ganesan presented red blanket to 14 Village Chiefs/Khullakpas from 7 (Seven) Hill Districts namely, Chandel, Kamjong, Kangpokpi, Noney, Senapati, Tamenglong and Tengnoupal who came to witness the Republic Day Celebration in Imphal.