Aizawl: Mizoram Chief Minister Zoramthanga hosted a farewell function at the Raj Bhavan for the outgoing Governor of the state P.S. Sreedharan Pillai. The farewell function initially was planned at Helipad, Thuampui but was shifted to Raj Bhavan at the last minute due to inclement weather.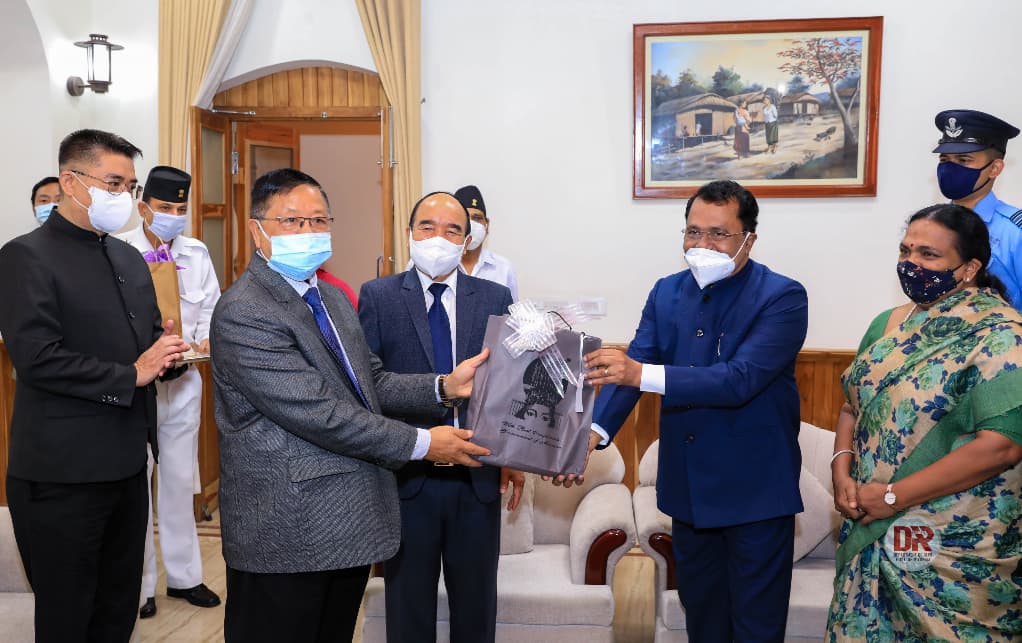 Dr R.Lalthangliana, Health Minister and Lalruatkima, Minister of State for Information & Public Relations Department also took part in the farewell function at the Banquet Hall, Raj Bhavan.
Chief Minister Zoramthanga lauded Governor Pillai for his able leadership and his warm relations with the people of Mizoram. And he also shared his appreciation of the efforts made by the Raj Bhavan during the Covid-19 pandemic.
During his interactions with Chief Minister Zoramthanga and two other State Ministers, Governor Pillai shared that his time of almost two years as the head of the state has been very pleasant and satisfactory. He also appreciated the able state leadership for efficiently steering the state through Covid 19 pandemic to be among the few well-managed states in the face of pandemic crisis.
He said that Mizoram and her people will have a special place in his heart. And he was also hopeful that the people of the state will remember his time in Mizoram whenever they come across his Poem "Oh, Mizoram". Finally, he also thanked the media and the people of Mizoram for their support and close relations during his tenure as the 21st state governor of Mizoram.
Governor P.S. Sreedharan Pillai was appointed by the President of India as the 21st Governor of Mizoram on 25th October 2019. Thereafter, he was sworn as the 21st Governor of the state of Mizoram on 5th November 2019. After he formally assumed his charge, Governor Pillai took only a few months to visit different parts of the 11 districts of the state. Governor Pillai, in his private capacity, was a successful lawyer and a celebrated writer. In spite of his important position and busy schedules, he was still prolific and continues to complete volumes of books relating to law, social issues, administration and books about the people and the state of Mizoram.
Due to Covid 19 restriction, a strict protocol was observed at the farewell function for the outgoing Governor with the presence of only a few top officials. Before he left the Raj Bhavan, the Governor and Lady Governor were given Mementos by Chief Minister Zoramthanga and his fellow-ministers: Dr R.Lalthangliana, Health Minister and Lalruatkima, DIPR Minister. Governor P.S. Sreedharan Pillai will be heading for Goa for his new appointment as the new Governor.
Dr Kambhampati Hari Babu, the new Governor of Mizoram is expected to be sworn in as the 22nd Governor of Mizoram State during the fourth week of this month(July 2021). Before his appointment to the Governor of Mizoram, Dr Kambhampati Hari Babu was a Member of Parliament(MP), Lok Sabha from Visakhapatnam.