Imphal: 'Azadi ka Amrut Mahotsav', marking 75 years of India's Independence, is also being celebrated in Manipur as in other parts of the country. The Mahotsav is a series of events and as part of the celebration, Commissioner, Art & Culture, M Joy Singh, Additional DG (NEZ), Guwahati & Imphal Region, PIB and ROB, Ministry of Information and Broadcasting, Government of India, SN Pradhan, and Deputy Commissioner, Bishnupur, Neeta Arambam, flagged-off a rally Friday at INA Martyrs' Memorial Complex, Moirang.
Students participated in large numbers at the rally from INA complex to Sendra. Friday's event was organized by Art and Culture department, Manipur in association with the District Administration, Bishnupur.
Addressing the gathering, M Joy Singh stated that the whole country is celebrating Azadi Ka Amrut Mahotsav with grandeur, enthusiasm, innovative ideas and diverse forces. He said that the festival should be celebrated with a spirit of freedom struggle, a tribute to the martyrs embodying the glimpse of the glory of India and the growth of modern India. Highlighting the need for a commitment for achieving the spirit of global leadership, he said that Azadi Ka Amrut Mahotsav will showcase our achievements in the past 75 years to the global community and will also give a framework for resolution for the next 25 years that will prepare India to take responsibility for global leadership.
M Joy emphasized the need to honour and publicize the stories of lesser-known freedom fighters to the people and redefine the contributions of unsung heroes. If every nook and corner of the country is replete with the sacrifices of the sons and daughters of the country, their stories will be an eternal source of inspiration for the nation, he said. Saying that peoples participation is at the core of Azadi Ka Amrut Mahotsav, he also reiterated the 5 pillars of the Azadi Ka Amrut Mahotsav celebration – freedom struggle, ideas at 75, achievements at 75, actions at 75, and resolve at 75.
SN Pradhan in his speech said that the whole idea of Azadi Ka Amrut Mahotsav celebration is to relive the glorious ideals and sacrifices of foregone leaders because of whom we are able to hold our head high. He stressed on the need for introspection and re-dedication, infuse young minds with a renewed sense of nationalism and nation-building in order to reach the pinnacle of greater heights.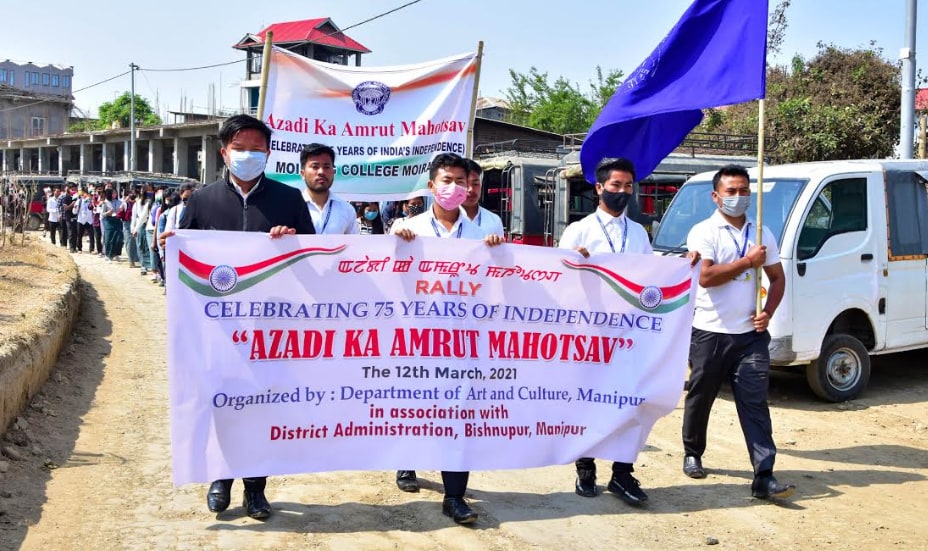 A cultural program was also organized as part of the celebration today at INA Complex auditorium wherein artists from Arts and Culture and Regional Outreach Bureau enthralled the crowd with captivating songs and various dance performances including traditional acrobatic. The function was also attended by SP, ZEO, DLOs and officials from Art and Culture department.