Imphal: In what could be described as the biggest revelation so far about an incident that happened in June, a top leader of the Kuki People's Alliance (KPA) Thursday disclosed that his Kuki combatants killed over 200 to 300 Meiteis in one night in the middle of June.
"Our volunteers killed over 200 to 300 Meiteis during the intervening night of June 13 and 14 and nearly 400 of them were seriously injured," Wilson Lalam Hangshing, General Secretary of KPA said while giving an interview to Karan Thapar of The Wire.
Hangshing was referring to an incident in which nine Meiteis volunteers were killed and nearly a dozen injured when a group of heavily armed Kuki terrorists surrounded and attacked a church at Khamenlok, a village sandwiched between Imphal East district and Kangpokpi district on June 14 last month.
Incidentally, KPA is one of the four political parties including NPP, NPF, and Independents that supported the Biren Singh-led Bharatiya Janata Party government, with its two MLAs – Kimneo Haokip Hangshing of Saikul AC and Chinlunthang of Singhat AC, before the current crisis.
Even though Hangshing's statement appeared to be corroborated and highly exaggerated from the actual number of deaths and figures as reported both in local and national media, he claimed that these numbers, which could be even much higher, were given by his Kuki combatants and even from Tangkhul people. One boy was killed and three to four were injured on the Kuki side during the 'battle', he contended.
He further said that Khamenlok lies in a strategic location, which both Meiteis and Kukis know it. Once it's taken, all the other towns including Saikul and then Kangpokpi are exposed. That's why many Meiteis led by Arambai Tenggol and Meitei Leepun are trying to take over this village, which couldn't succeed so far right now, he told The Wire.
Later, Hangshing, however, clarified that his estimation was based on the number of arms recovered from the dead people. If they had enough ammunition and sophisticated weapons, all the Meities would have been eliminated on the spot, he said, without showing any remorse to the victims even if the incident was true.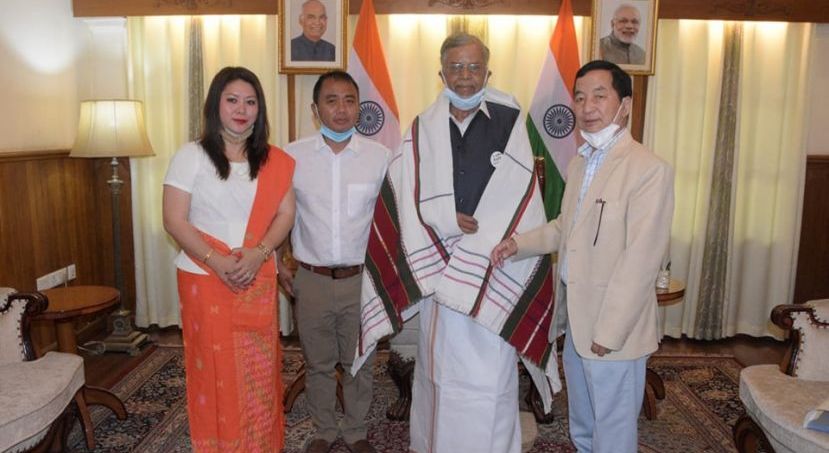 Accepting that the incident was a 'massacre', he disclosed that even the chief minister N Biren Singh had to request a Gorkha regiment unit in the area for allowing to withdraw the dead bodies.  Three army trucks were in use to retrieve the bodies. Every Meitei family who has lost their dear and loved ones should ask the Chief Minister to produce them as he knows the exact number.
Because of the Khamenlok incident, many Meiteis were fleeing the Imphal valley for safer places and attacks on Kukis have significantly reduced since then, the politician told Thapar like a total propagandist of the Kuki terrorists.
It may be noted that the current violent ethnic crisis in Manipur which began on May 3 in Churachandpur district, according to some estimates, has claimed over 150 people on both sides and over 4000 houses and a few churches belonging to both communities have been destroyed.